May 14, 2023
SHELBY COUNTY, Ala. — Throughout the years, Will Davis Jr. estimates he and his father Will have won over $300,000 fishing tournaments on Lay Lake. Today, Davis Jr. added another $100,000 to that total by winning the Whataburger Bassmaster Elite at Lay Lake with a four-day total of 62 pounds, 12 ounces.
The rookie from Sylacauga, Ala., hoisted the blue trophy in front of what seemed like his entire hometown and the roar that erupted drowned out the thunder from a pop-up thunderstorm.
"It means the world to do it in front of my home crowd," Davis said. "I did it for my wife, dad, my little girl and everyone who came and watched me. I did it for these guys I fish against around here too. They are good enough to be on the Elite Series. I was just really blessed. I had a good job and a good boss, Chris Landers, who let me take off and fish the B.A.S.S. Nation."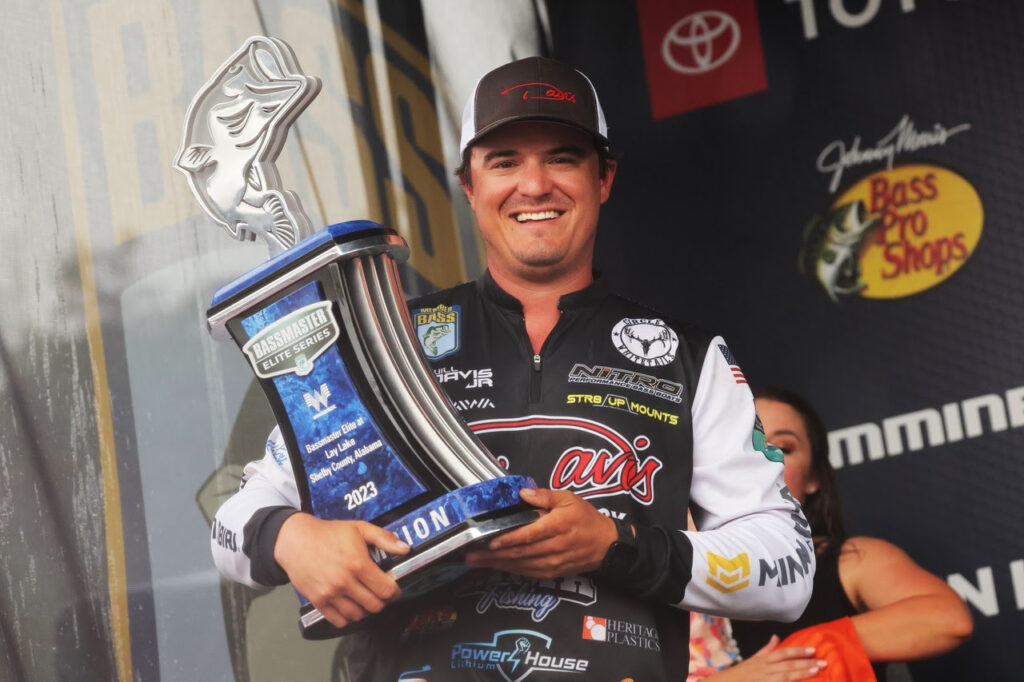 Davis kept himself firmly in the Top 10 all week. With limits weighing 15-14, 18-5, 14-7 and a final-day limit of 14-2, Davis edged Brandon Palaniuk, who led the tournament for three days, by 2 ounces. Palaniuk suffered a dead-fish penalty that cost him 4 ounces and ultimately the win.
The victory wouldn't have been possible without a bedding largemouth he affectionately called "White Eye." Boats had been in the creek where he had seen this 4-pounder in practice, but when he asked Mark Menendez about it in the Day 3 weigh-in line, his fellow competitor confirmed the bass with the white outline around its eye was still there.
"At 1:30, I didn't think this was going to happen," he said. "I went into this creek, I saw her and she ran off when I flipped to her. I went down the bank and there was a brand new one. I flipped and flipped and couldn't make her bite. I tied on a jerkbait, threw it out there and after about five casts in a row, she just opened her mouth at it. The next cast I threw it 2 feet away from her and she sucked it in."
When he landed that bass, the back hook came unbuttoned from the fish and ended up in Davis's thumb. He had to push the hook through his finger. With no hook cutters in his own boat, he, fortunately, found a local angler at the mouth of the creek who had a pair he could use.
Once the hook was out of his hand, he went back to where he saw White Eye and caught her with the jerkbait, an old floating Bomber Long A, in a chartreuse foil color.
"She was pulled up and positioned perfectly," he said. "That is what sealed the deal."
When Davis qualified for the Bassmaster Elite Series with his victory at the 2022 TNT Fireworks B.A.S.S. Nation Championship on Pickwick Lake, he wasn't thrilled to see his home lake on the schedule.
"I knew I was going to expose this to the world. My dad and I have worked all of our lives to learn this lake," Davis said. "It took me seven years to figure out that deal up there (below Logan Martin Dam) and a lot of torn-up stuff. That's why you don't see a lot of people up there. Boulders up there move."
After trying several different areas the first day, Davis spent most of the final three days fishing a 5-mile stretch of tailrace that started at the base of the dam for mostly spotted bass that were in all three stages of the spawn. In that stretch, he fished a mix of boulders, brushpiles and current seams as well as the concrete face of the dam.
He caught bass from 2 to 10 feet of water. Making the win even more special, he won using mostly baits developed by his father's bait company.
A Davis Bait Company Shaky Worm in green pumpkin rigged on a 3/16-ounce Little Wills Series Shaky Worm Head, as well as a new Davis Xswim Fat Minnow rigged on a 1/2-ounce Davis Shaky Fish head, caught the majority of his spotted bass.
He used Seaguar Red Label fluorocarbon on his Daiwa Tatula spinning reels, 12-pound test on the shaky head and 15-pound on the Shaky Fish.
Baitfish were also key. If he did not see little threadfin shad around the boulders, he would not catch anything. The bait moved every day as well. With how quickly the spotted bass were transitioning out of the spawn, Davis said he wouldn't have won up there if the tournament was a week later.
Davis started the final morning fishing a shad spawn around bank grass and was able to land one keeper on a Davis Beast swim jig in blue glimmer shad with a Zoom Z Craw Jr. After a couple of different stops, he headed upriver and landed two more keepers before moving to the creek where he caught his two quality largemouth.
"I went to my spot hole and I caught my biggest one, about 3 1/2," he said. "I ran up to the tailrace and fished there for 30 minutes and caught another 3-pounder. I caught another keeper, I mean a 12-incher, and I thought, 'This is not going to be good.' I went to my turbine spot and never got bit, not even a drum."
After leading three days on Lay Lake, a disappointed Palaniuk fell to second with a four-day total of 62-10. He opened the tournament with 19-7 and followed with bags of 16-5 and 15-11. On the final day, the two-time Progressive Insurance Bassmaster Angler of the Year caught the bass he needed to win, but a 4-ounce penalty forced Palaniuk to wait longer for his seventh B.A.S.S. win.
"It is mind-blowing that spot held up and had enough to win," he said. "I said on camera that it was amazing I even caught a limit every day out of that place. I can't be mad about it, but it hurts. I had enough to do it. But I have to be thankful. Coming into it, I thought I would have a big bag on Day 1 and it would fall off and I would finish in the 30s."
The Rathdrum, Idaho, pro caught all of his bass in 3 feet of water or less, using a variety of baits in a wide range of scenarios. An X Zone Lures Deception Worm in green pumpkin/blue was one of his go-to lures, along with a Megabass Vision OneTen jerkbait in the Ito Wakasagi color.
After catching the VMC Monster Bag of the Tournament on Day 3 at 23-0, Oklahoma's Jason Christie added 11-7 on the final day to finish third with 60-9. The 2022 Academy Sports + Outdoors Bassmaster Classic presented by Toyota champion spent much of the tournament fishing a creek north of the Beeswax Creek takeoff.
Matt Herren earned the $1,000 daily bonus for catching the Phoenix Boats Big Bass of the Day with his 4-5. The 9-4 largemouth Christie caught on Day 3 claimed Phoenix Boats Big Bass of the Tournament honors — good for $3,000 in bonuses. It also leads the Phoenix Boats Big Bass of the Year standings, which pays $10,000 at the end of the season.
Davis took home an additional $3,000 for being the highest-placing entrant in the Toyota Bonus Bucks program while Christie claimed $2,000 for being the second-highest placing entrant.
As part of the Yamaha Power Pay program, Palaniuk earned an additional $2,500 as the highest-placing entrant and Christie took home an additional $1,500 for being the second-highest placing entrant.
Paul Mueller of Connecticut won the $1,000 BassTrakk contingency award for the most accurate weight reporting.
With four events left in the Elite Series season, Greenwood, S.C., pro Brandon Cobb leads the Progressive Insurance Bassmaster Angler of the Year race with 485 points. Georgia pro Drew Cook is second with 436 points, followed by Louisiana's Tyler Rivet in third with 415, Florida's John Cox in fourth with 414 and Alabama's Kyle Welcher in fifth with 413.
Davis leads the Dakota Lithium Bassmaster Rookie of the Year race with 383 points, followed by Alabama pro David Gaston in second with 369 and California pro Bryant Smith in third, also with 369.
Discover Shelby hosted the Whataburger Bassmaster Elite at Lay Lake.
2023 Bassmaster Elite Series Platinum Sponsor: Toyota
2023 Bassmaster Elite Series Premier Sponsors: Bass Pro Shops, Dakota Lithium, Humminbird, Mercury, Minn Kota, Nitro Boats, Power-Pole, Progressive Insurance, Ranger Boats, Rapala, Skeeter Boats, Yamaha
2023 Bassmaster Elite Series Supporting Sponsors: AFTCO, Daiwa, Garmin, Lew's, Marathon, Triton Boats, VMC
2023 Bassmaster Conservation Partners: AFTCO, Yamaha Rightwaters
Connect with #Bassmaster on Facebook, Instagram, Twitter and TikTok.
About B.A.S.S.
B.A.S.S., which encompasses the Bassmaster tournament leagues, events and media platforms, is the worldwide authority on bass fishing and keeper of the culture of the sport, providing cutting edge content on bass fishing whenever, wherever and however bass fishing fans want to use it. Headquartered in Birmingham, Ala., the 515,000-member organization's fully integrated media platforms include the industry's leading magazines (Bassmaster and B.A.S.S. Times), website (Bassmaster.com), TV show, radio show, social media programs and events. For more than 50 years, B.A.S.S. has been dedicated to access, conservation and youth fishing.
The Bassmaster Tournament Trail includes the most prestigious events at each level of competition, including the Bassmaster Elite Series, St. Croix Bassmaster Opens Series, TNT Fireworks B.A.S.S. Nation Series, Strike King Bassmaster College Series presented by Bass Pro Shops, Strike King Bassmaster High School Series presented by Academy Sports + Outdoors, Bass Pro Shops Bassmaster Team Championship, Yamaha Rightwaters Bassmaster Kayak Series powered by TourneyX, Yamaha Bassmaster Redfish Cup Championship presented by Skeeter and the ultimate celebration of competitive fishing, the Academy Sports + Outdoors Bassmaster Classic presented by Toyota.