July 20, 2023
WADDINGTON, N.Y. — Cory Johnston knows the fishery of his youth is hardly a secret, but the Bassmaster Elite Series pro from Cavan, Ontario, battled through extreme crowding to round up a limit of 26 pounds, 14 ounces that leads Day 1 of the St. Croix Bassmaster Open at St. Lawrence River.
Johnston, who won the 2021 Bassmaster Open on the same fishery, leads Jody White of Shaftsbury, Vt., by 1-3. Having grown up fishing the river, Johnston has seen this stellar fishery attract a steadily increasing level of attention — and boat traffic.
"This was the toughest practice I've ever had," Johnston said. "This fishery's changing. It's getting a ton of pressure and the fish are doing different stuff, so I kinda had to adjust today and came across the right ones.
"When I was here for pre-practice, I have never seen so many boats on this river. I couldn't even get a spot at a boat ramp. These fish feel the pressure and they don't go to where they're typically at."
Johnston said his main adjustment came down to hunting individual bass in areas with less pressure. Doing most of his work on flats with isolated structure, Johnston relied heavily on his electronics to spot his skittish targets.
"I caught one in 2 feet of water today, and I caught the rest in 35 feet," Johnston said. "I was using Garmin LiveScope and picking apart the structure and looking for the bigger fish."
Johnston said he caught all of his bass on a drop shot with a 3/4-ounce weight and a prototype 6th Sense soft-plastic bait. Noting that he burned two full tanks of gas, Johnston said he covered nearly the entire length of the tournament boundaries.
"I spent a lot of time looking for fish today," he said. "I hit 40 spots and you'd just catch one here, one there. They're not grouped up anywhere and that's part of the problem.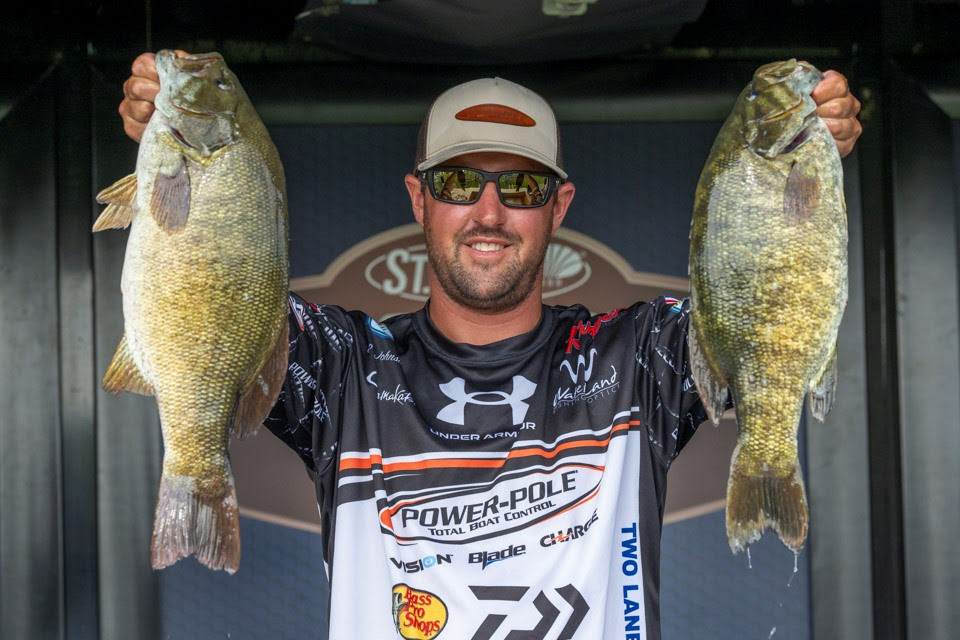 "There's no specific area I'm fishing. I'm just running down the river and I'm like, 'That looks good,' and I'll pull over and fish it. It might be a shallow patch, or it might be a rock in 30 feet of water."
Last year, Johnston became the first angler to break 100 pounds with all smallmouth in a four-day event, during the Bassmaster Elite at the St. Lawrence. His four-day total weighed 100-5, though he ultimately finished second.
Johnston knows another Century Club Belt isn't realistic in the three-day Opens format, but he's hoping to back up his opening-round effort with a solid Day 2 bag. Contrasting Day 1's calm, sunny complexion, Friday's forecast for rain and strong winds will likely impact the opportunities.
"I'm glad I caught a big bag today because I can't see that happening again tomorrow," Johnston said. "I need to do something to stay in contention and hopefully catch a 23-pound bag."
White, who sits in second place with 25-11, enjoyed a highly productive morning, despite a later boat number and a deck maintenance issue. He had to stop short of his upriver destination when one of his baits came loose and line started flying off one of his reels.
"This morning was incredible," he said. "I got to where I wanted to go, and I had my weight by probably 9 o'clock. I thought my late boat draw would hurt me, but it didn't."
White said he fished current-related places in 30 to 50 feet and caught his fish on a mix of drop shots and other finesse baits. Intuitively adapting to fish behavior, he said, came easy.
"Champlain is my home lake and I love it, but the St. Lawrence might be my new favorite place to fish," White said. "There's just something about it. I feel like I understand it and flow with it pretty well right now — at least the deep side."
Brent Anderson of Kingston Springs, Tenn., is in third place with 24-10. With a combination of factors pointing him toward something familiar, Anderson stuck with one technique and caught all of his bass within a short run from takeoff.
"I had a short day today and no co-angler, so having no one in the back of the boat, I can be more efficient," he said. "I've guided on the Tennessee River for 20 years, and I just treated these (St. Lawrence River) shoals like Tennessee River ledges."
Anderson caught fish on a drop shot but added one of his better smallmouth on a goby imitator he designed. Noting that he caught (approximately) 60 bass, Anderson said his day required quantity to find the quality.
"I had to catch so many 3- to 4 1/4-pounders," Anderson said. "Hopefully, there's some left, but to get to those 5-pounders, I have to weed through them."
Johnston is in the lead for Phoenix Boats Big Bass honors with his 6-11.
David Waack of Cary, N.C., leads the co-angler division with 13-11.
Perry See of Rochester, Minn., holds the Phoenix Boats Big Bass lead among co-anglers with a 5-12.
Friday's takeoff is scheduled for 6 a.m. ET at Whitaker Park. The weigh-in will be held at the park at 2 p.m. Full coverage will be available on Bassmaster.com.
The 2023 event is being hosted by the St. Lawrence County Chamber of Commerce in partnership with the Village of Waddington. It is part of a series of tournaments and is supported by a Market New York grant from I LOVE NY/New York State's Division of Tourism through the Regional Economic Development Council initiative.
Connect with #Bassmaster on Facebook, Instagram, Twitter and TikTok.
2023 Bassmaster Opens Series Title Sponsor: St. Croix
2023 Bassmaster Opens Series Platinum Sponsor: Toyota
2023 Bassmaster Opens Series Premier Sponsors: Bass Pro Shops, Dakota Lithium, Humminbird, Mercury, Minn Kota, Nitro Boats, Power-Pole, Progressive Insurance, Ranger Boats, Rapala, Skeeter Boats, Yamaha
2023 Bassmaster Opens Series Supporting Sponsors: AFTCO, Daiwa, Garmin, Lew's, Marathon, Triton Boats, VMC
About B.A.S.S.
B.A.S.S., which encompasses the Bassmaster tournament leagues, events and media platforms, is the worldwide authority on bass fishing and keeper of the culture of the sport, providing cutting-edge content on bass fishing whenever, wherever and however bass fishing fans want to use it. Headquartered in Birmingham, Ala., the 500,000-member organization's fully integrated media platforms include the industry's leading magazines (Bassmaster and B.A.S.S. Times), website (Bassmaster.com), TV show, radio show, social media programs and events. For more than 50 years, B.A.S.S. has been dedicated to access, conservation and youth fishing.
The Bassmaster Tournament Trail includes the most prestigious events at each level of competition, including the Bassmaster Elite Series, St. Croix Bassmaster Opens Series, TNT Fireworks B.A.S.S. Nation Series, Strike King Bassmaster College Series presented by Bass Pro Shops, Strike King Bassmaster High School Series presented by Academy Sports + Outdoors, Bass Pro Shops Bassmaster Team Championship, Yamaha Rightwaters Bassmaster Kayak Series powered by TourneyX, Yamaha Bassmaster Redfish Cup Championship presented by Skeeter and the ultimate celebration of competitive fishing, the Academy Sports + Outdoors Bassmaster Classic presented by Toyota.