October 14, 2023
LEESBURG, Fla. — Two weeks ago, Matt Messer wondered how he would pay for his 2024 tournament entry fees.
But winning the St. Croix Bassmaster Open at Harris Chain of Lakes completely changed that outlook.
After leading Day 1 with 24 pounds, 6 ounces, the Warfield, Ky., angler added a second-round total of 15-7 and tallied 39-13. Edging Blake Sylvester of Plaquemine, La., by 1-12, Messer won $42,467 and an automatic berth in the 2024 Academy Sports + Outdoors Bassmaster Classic scheduled for March 22-24 in Tulsa, Okla.
"I've been dreaming of the Classic since I was 5 and now I get a shot at it," Messer said. "I can hardly talk. I'm torn all to pieces."
Messer, who won the 2022 Strike King Bassmaster College Series at Harris Chain presented by Bass Pro Shops with his brother and Kentucky Christian University teammate Lafe Messer, caught both day's limits in Lake Griffin. While Day 1 yielded a 7-14 and a 7-2, the second round saw his lone shot at a kicker fizzle.
"I did not think I was going to catch 'em," Messer admits. "I was grinding and I got one big bite, but I didn't get it in the boat. It was like a 7-pounder.
"I was (discouraged), but I told myself, 'If it's the Lord's plan, it's going to happen.'"
Messer would end up catching his fish on a Texas-rigged Berkley PowerBait MaxScent Creature Hawg and a 1/4-ounce Boogerman buzzbait. The latter would deliver the day-making fish right before Messer's trip back to the weigh-in.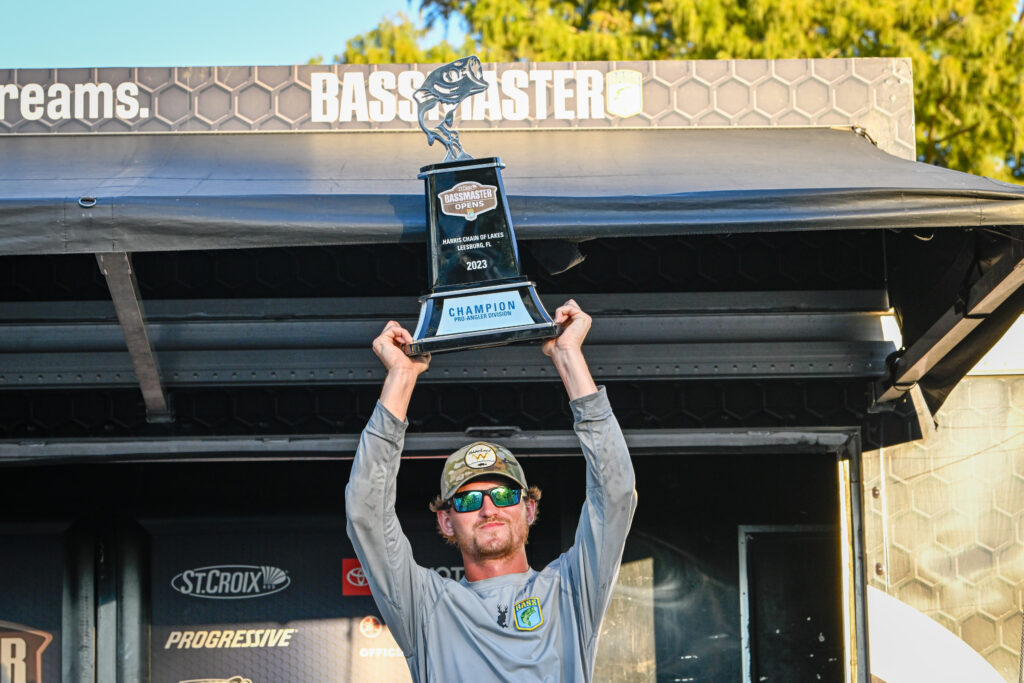 "I came back (from Lake Griffin) and there were boats lined up at the lock," he said. "I asked (the anglers) if I could fish in front of them while they waited. I trolled by them, threw a buzzbait against the wall and at 3:45, I caught a 3 1/2-pounder."
Calling the Harris Chain his favorite fishery, Messer said a key Day 1 decision likely determined his fate.
"Yesterday, I was going through the Dead River," he said. "I was going to go to Lake Dora to catch a limit. I knew I could go and catch enough to get a check. But I started thinking that I really didn't care about getting a check on this place — I wanted to win.
"I went to Griffin about 11 o'clock with two bass in my livewell. I caught those two 7s, and it just worked out."
Sylvester finished second with 38-1. Making the long run to Lake Apopka, he caught a limit of 15-14 on Day 1 and then added 22-3 on the final day.
Returning to Apopka for Day 2, Sylvester anchored his big limit with an 8-pounder. He caught his bass by throwing a Prototype Lures Smasher Frog and a Delta Lures Thunder Jig and flipping a Missile Baits D Bomb.
"I was around some big ones," he said. "I caught a 7-8 (on Friday), and I saw a couple of big ones that missed my frog. I left a lot out there yesterday. I weighed in three 2-pounders and you can't do that on a place like this."
Sylvester started his day in Lake Harris. Once he reached Apopka, he caught all of his bass between 12:30 and 2:30 p.m.
Ben Milliken of New Caney, Texas, finished third with 32-3. After placing second on Day 1 with 20-13, he endured a day of frustration but managed to catch a final round limit of 11-6.
"A lot of things went wrong today, and I really had to work hard to overcome a lot of challenges," Milliken said. "I got to my first spot and there was an angler parked on top of it. I never caught any fish there, so I drove all the way down to Lake Apopka. I got to the lock and there were 20 boats lined up — they can only take three at a time.
"I finally got down to Apopka around 11:30 or noon and got to the brushpile where I caught my whole Day 1 limit. I broke off the first four fish that bit on a drop shot with a 7-inch 6th Sense Divine Shakey Worm."
Milliken ended up catching two fish out of the brushpile and filled his limit elsewhere.
Lafe Messer of Warfield, Ky., won the $750 Phoenix Boats Big Bass award for his 8-12.
As part of the Yamaha Power Pay program, Sylvester took home a $2,000 bonus. He also earned an additional $500 Garmin Tournament Rewards bonus.
Pic Dieffenbauch Jr. of Hundred, W.Va., won the nonboater division with 21-5. Dieffenbauch led Day 1 with a limit of 13-14, which he anchored with a 6-15. Adding a limit of 7-7 on Day 2 pushed him past Mike Spears of Jasper, Ala., by 2 pounds.
"Getting a big bag on Day 1 was the key," he said. "Today was a struggle. It was 10 o'clock before I had my first fish."
Dieffenbauch caught all of his fish on a Zoom Speed Worm in the junebug color. He rigged the bait with a 3/16-ounce weight and fished it around submerged vegetation.
Rick Adams of Lake Wales, Fla., won the $250 Phoenix Boats Big Bass award among nonboaters with his 8-1.
The tournament was shortened to just two days due to inclement weather on Thursday — and in addition to deciding one of the final Classic berths of the season, it determined the final standings for the Opens Elite Qualifiers division. Only anglers who fished all nine Opens were eligible for the EQs, and the top nine finishers in the season standings will receive invitations to the 2024 Bassmaster Elite Series.
JT Thompkins of Myrtle Beach, S.C., won the EQ Division Angler of the Year title with 1,659 points. The other eight EQ anglers earning an Elite invitation were John Garrett of Union City, Tenn., Trey McKinney of Carbondale, Ill., Robert Gee of Knoxville, Tenn., Tyler Williams of Belgrade, Maine., Wesley Gore of Clanton, Ala., Logan Parks of Auburn, Ala., Milliken and Kyle Patrick of Cooperstown, N.Y. Since Kenta Kimura, who finished fifth in the EQ point standings, is already an Elite Series angler, that allowed one additional angler to earn an Elite invitation.
"You look back at the year I had and I don't think I'll be able to duplicate a string of tournaments like that again," Thompkins said of his four Top 10 finishes. "To be able to do that with the kind of people around me was a blessing.
"Big shout out to everyone who made the Elite Series. Those guys really made the race what it was and they made the (EQ Angler of the Year) trophy mean that much more."
The tournament was hosted by Visit Lake, the City of Leesburg and the Greater Orlando Sports Commission.
Connect with #Bassmaster on Facebook, Instagram, Twitter and TikTok.
2023 Bassmaster Opens Series Title Sponsor: St. Croix
2023 Bassmaster Opens Series Platinum Sponsor: Toyota
2023 Bassmaster Opens Series Premier Sponsors: Bass Pro Shops, Dakota Lithium, Humminbird, Mercury, Minn Kota, Nitro Boats, Power-Pole, Progressive Insurance, Ranger Boats, Rapala, Skeeter Boats, Yamaha
2023 Bassmaster Opens Series Supporting Sponsors: AFTCO, Daiwa, Garmin, Lew's, Marathon, Triton Boats, VMC
About B.A.S.S.
B.A.S.S., which encompasses the Bassmaster tournament leagues, events and media platforms, is the worldwide authority on bass fishing and keeper of the culture of the sport, providing cutting-edge content on bass fishing whenever, wherever and however bass fishing fans want to use it. Headquartered in Birmingham, Ala., the 500,000-member organization's fully integrated media platforms include the industry's leading magazines (Bassmaster and B.A.S.S. Times), website (Bassmaster.com), TV show, radio show, social media programs and events. For more than 50 years, B.A.S.S. has been dedicated to access, conservation and youth fishing.
The Bassmaster Tournament Trail includes the most prestigious events at each level of competition, including the Bassmaster Elite Series, St. Croix Bassmaster Opens Series, TNT Fireworks B.A.S.S. Nation Series, Strike King Bassmaster College Series presented by Bass Pro Shops, Strike King Bassmaster High School Series presented by Academy Sports + Outdoors, Bass Pro Shops Bassmaster Team Championship, Yamaha Rightwaters Bassmaster Kayak Series powered by TourneyX, Yamaha Bassmaster Redfish Cup Championship presented by Skeeter and the ultimate celebration of competitive fishing, the Academy Sports + Outdoors Bassmaster Classic.