April 23rd, 2023.
Texarkana angler Ryan Satterfield wins first career NPFL tournament on home water.
Ryan Satterfield 
With a three-day total of 50 pounds, 4 ounces, local angler Ryan Satterfield caught 18 pounds, 9 ounces on the final day to take his first career NPFL victory, on his home body of water. Focusing on bass up the river on Wright Patman, he started off the event on day one with a 16-pound, 2-ounces, and followed it up with a 15-pound, 9-ounces on day two.
After a tough practice, Satterfield stuck to his guns on the first two days patiently waiting for the bigger fish to arrive. Today, he arrived to find that the bigger females were pushing back in to spawn and he capitalized with his biggest bag of the week.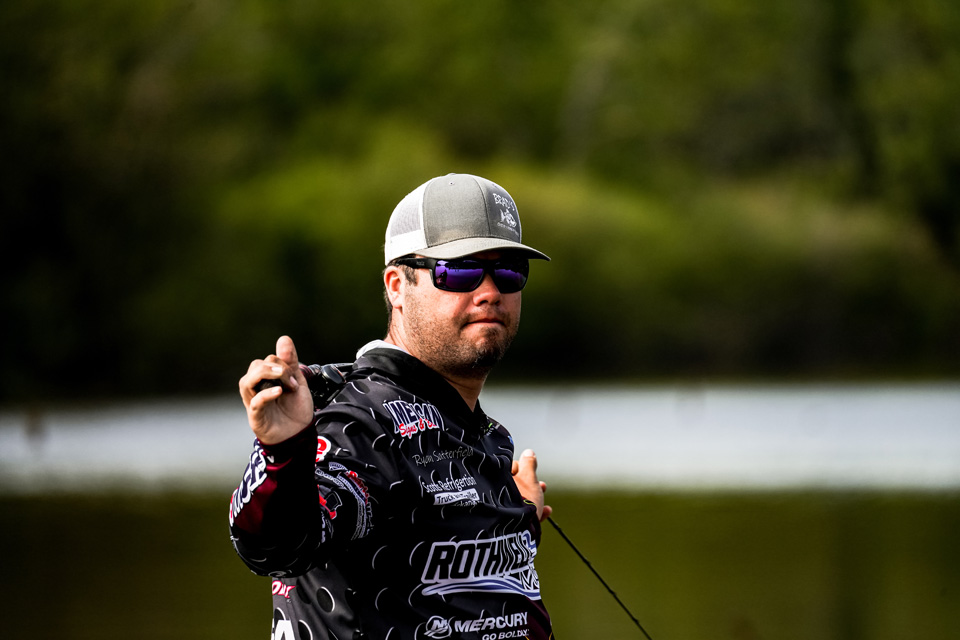 "The water came up faster in the river than it did the lake," said Satterfield. "That higher water allowed me to capitalize on the bigger fish moving back in to spawn."
Growing up on Wright Patman, Satterfield knows the lake and knew coming in he wanted to get away from the crowd. Throughout practice, he got enough bites on a frog to make it an easy decision to fish how he is most comfortable.
"I had two stretched of bank and I was focusing on the root systems of certain types of bushes," he added. "I was afraid it would be off, but there was enough bass to keep me in it. On the final day, I really thought I would get up there and catch a limit of males, but to my surprise, the females moved in and it was a fun day; frog fishing is my favorite way to catch them, and I kept my mind right and went to work."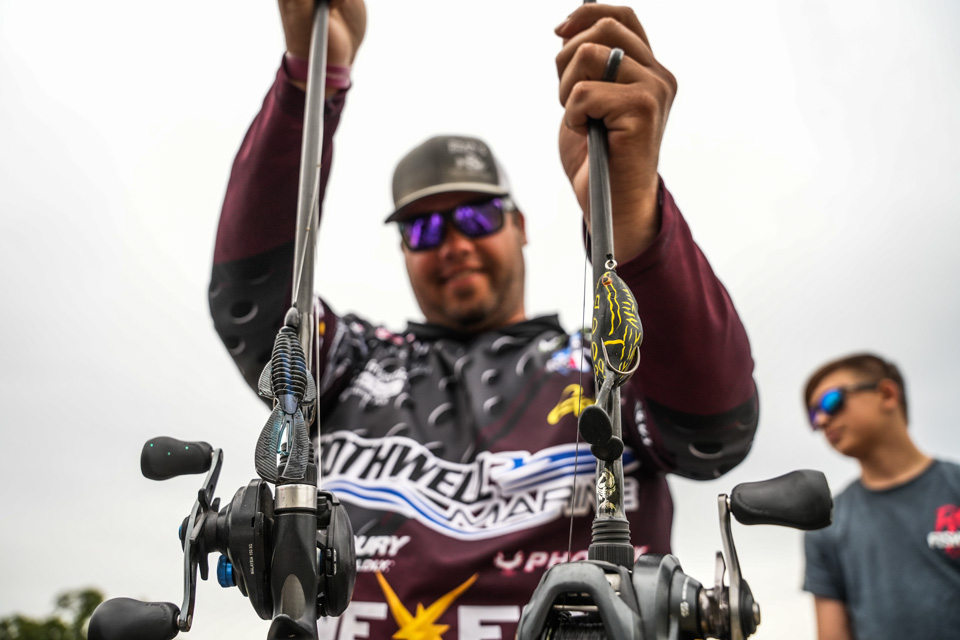 Winning angler Barron Adams has been disqualified from the event for failure to produce a valid fishing license for the State of Texas. 
"It makes me sick for him," said Satterfield. "Barron had a great week out here; I don't wish what happened to anybody. We all work so hard out here that it just makes me sick for him."
Bait WrX Key Baits 
Satterfield fished his popping frog on a Brad's Custom Rods 7'3" extra-heavy rod with a Shimano reel spooled with a 60-pound braid. For a follow-up for fish that miss the bait, he would flip a Texas-rigged Strike King Rage Bug in black/blue color, and a ¼-ounce Jig Shack flipping weight.
Brad Staley
Making a big move on day three, Brad Staley caught 19 pounds, 8 ounces to move into the second-place spot at Wright Patman. Combined with his day one weight of 18 pounds, 5 ounces, and day two bag of 12 pounds, 2 ounces, he worked a finesse pattern on isolated root balls to catch a three-day total weight of 49 pounds, 15 ounces.
"It's no secret I was fishing a Senko this week, wacky rig, and fishing anything that looked good," said Staley. "While I did catch fish on a bunch of stuff, the key to getting some of those bigger bites was finding the bigger root systems of the bigger bushes."
Staley had a tough go on day three until beyond the mid-day point with only one keeper to show at 1 pm. After a decision to back to one of his starting places, his luck quickly changed.
"By 1:20 pm I had four fish, and then culled a few times," he added. "I skipped up next to a tree and caught the big female, and the next cast caught the male."
The key to his program this week was finding clean water. With the water falling early and rising with mud coming down from the river, clean water was tough to find.
"I was running out of places to fish because the mud was getting everywhere. I was worried about catching a few fish and getting a check, so finishing in the top five is awesome.
BaitWrX Key Baits 
Staley kept a wacky rigged Daves Salty Slinky stick bait in green pumpkin color in his hand all week and fished it with a VMC Neko Rig Hook. His rod of choice was a Cashion 7-foot medium-heavy rod and he fished a 10-pound braid and a 12-pound fluorocarbon leader on a Lew's Hypermag Spinning Reel.
Timmy Reams
The day one leader Timmy Reams followed his 22-pounds, 3-ounce opening bag with 11 pounds, 15 ounces on two, and 14 pounds, 2 ounces on day three. His total weight of 48 pounds, 4 ounces was enough to finish in the third-place spot this week and another solid finish to start the season.
"It got tough on me as the event went on," said Reams. "My big fish area got super dirty from the rain and I just never could catch a big fish after that; you have to have a big bite or two to win in Texas."
Reams was fishing a one-two punch rotating between a couple of different spinnerbaits depending on water clarity, and a swim jig. He opted for a double willow when it was cleaner, and a double Colorado when the water was muddy.
"Although it didn't work out for me, I had figured out in practice I could get bigger bites fishing as far back into the bushes as possible – super shallow, while most guys were fishing the edges," he added. "I am looking forward to Santee Cooper and I am thinking it will be a bit tougher than most people think."
Keith Carson
With 16-pounds, 5 ounces on day one, 13 pounds, 9 ounces on day two, and a final day weight of 16-pounds, 15 ounces, 2021 Wright Patman champion Keith Carson finished the event in the fourth-place spot with a total weight of 46 pounds, 13 ounces.
Carson took the victory two years ago by focusing on shallow fish staging in the flooding bushes. This goes around, with the water lower, he was still able to flip bushes on days one and two, but a last-second decision this morning kept him in the top five for the event.
"We had a cold night last night, a front came through," said Carson. "I got here this morning and said I am going to go crank rock, and that's what I did."
The Florida angler started strong on his first stop but was plagued with small fish. As he was about to abandon the crankbait, he decided last second to go and fish the main point once more.
"I got to that point and caught a keeper. On my next cast, I caught another decent fish, followed by losing two of the bigger bites I had all day, and then it shut off."
Carson ran different water several times and would return to his rocky point and pick up a solid fish each trip back. He threw his Berkley Frittside 5 Crankbait on an Abu Garcia Pro Series Crankbait rod, and his flipping bait of choice was a Berkley Creature Hawg, fish on a 7' 6" Abu Garcia Fantasista X rod.
"I did the best I could with two days of practice," he added. "I wouldn't say I didn't win because of missing one day, but like everyone, I lost some quality fish this week."