March 4, 2023
Barnes hangs on to win first Bassmaster Open of the season on Alabama's Lake Eufaula
EUFAULA, Ala. — With only a couple hours remaining in the St. Croix Bassmaster Open at Lake Eufaula, Justin Barnes felt the tournament slipping away.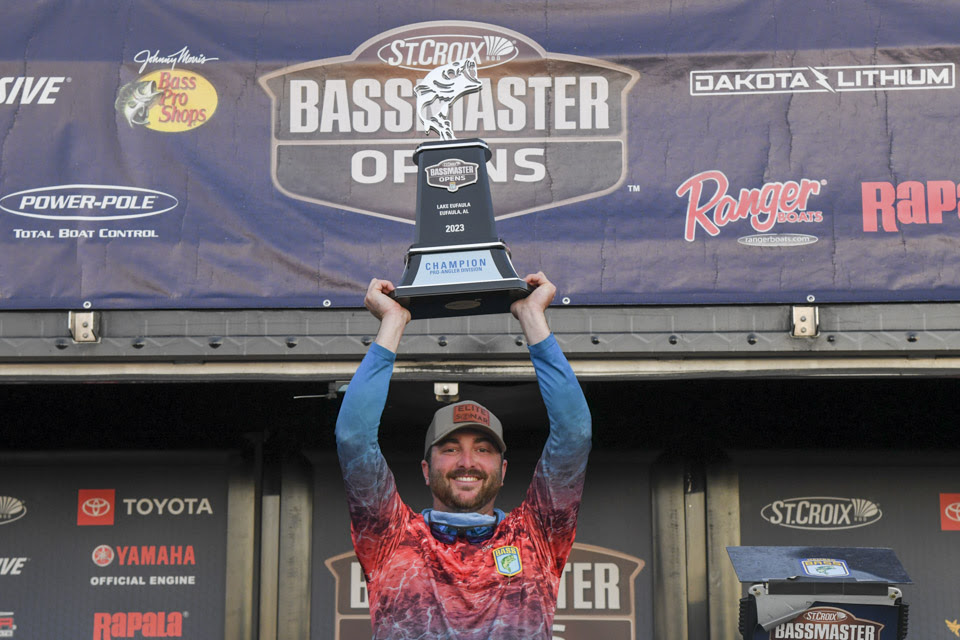 The Day 1 leader, Barnes was struggling Saturday after foul weather blew through the area Friday and forced cancellation of the day's competition. But the 28-year-old lineman with Georgia Power was able to flip the switch on his home water.
The move from a football jig to a series of deep-diving crankbaits put a charge in Barnes, who lives an hour away in Ellaville, Ga. He finished with a two-day total of 48 pounds, 9 ounces, and topped the field of 225 anglers from around the U.S. and beyond.
The victory earned Barnes a spot in the 2024 Academy Sports + Outdoors Bassmaster Classic presented by Toyota in Tulsa, Okla. He'll have to fish the remaining two Division I Opens events this year (on Alabama's Wheeler Lake May 18-20 and Florida's Harris Chain of Lakes Oct. 12-14) to secure the Classic berth, but he said that's a given with a win on Eufaula in the bag.
"I'm just glad to be able to be out here and fish," he said, shortly after securing his win before a big crowd at Lakepoint State Park. "It's what I love."
But that wasn't so much the case Saturday, when Barnes was struggling mightily.
"I really felt the wheels falling off," he said. "I only had two fish at 2 o'clock. I was having a bad day. I was starting to get worried, and I was frustrated."
The key change, Barnes said, was deciding to go back to the crankbaits that helped him catch a 25-6 limit on Thursday. He said Strike King 6XD and 10XD lures and a Berkley Dredger 20.5 (threadfin shad HD) were essential to his good fortune. He weighed a 23-3 limit Saturday but said the total could have been heavier.
"I lost a few key bites, but still had enough," Barnes said. "I had to keep hitting the hard spots and secondary points … The front knocked my fish in the head. I stopped on a whole bunch of fish today and couldn't get them to eat. And I was throwing the whole boat at 'em.
"But the higher the sun got, the better the bite got."
Barnes also won $52,500 for Saturday's victory, part of a $333,000 total purse split among the Top 40 competitors in both the pro and co-angler divisions competing at Eufaula. He topped his bounty with a $500 contingency prize for being the highest finisher using Garmin electronics.
Shaine Campbell of Brookeland, Texas, cranked his way to a second-place finish (45-14 overall) and won $25,500. He caught 24-8 on Saturday, relying primarily on a Berkley Dredger 20.5 (citrus shad). A 6th Sense 300 Crush DD (blue/chartreuse) crankbait was his go-to lure on Day 1, when he bagged a 21-6 limit and sat in seventh place.
"There were some really nice bite windows today," Campbell said. "I wasn't sure what to expect with these warm, bluebird conditions following yesterday's front. I got on a couple flurries and caught a 6-pounder and a 5-pounder about 10 o'clock."
As part of the Yamaha Power Pay program, Campbell also took home an additional $2,000.
Rounding out the Top 5 were third, Texas' Brett Cannon, 44-11; fourth, Tennessee's John Garrett, 44-1; and fifth, Texas' Ben Milliken, 41-5.
Cannon, who guides on Texas' prolific bass lakes, also relied on crankbaits to get a podium finish at Eufaula.
"I had to cast a few thousand times with that Strike King 10XD chartreuse sexy shad," he said. "My fish were anywhere in 15 to 20 feet of water. And the hard bottom was key. When you got that crankbait down there and felt it digging on that hard stuff, you knew you were in the right area."
Garrett had the big bag of the tournament, a 27-6 sack he weighed Saturday, the heaviest bass weighing an even 7 pounds. The former College Series champion said his best bass came on Strike King 6XD crankbaits in citrus shad, green gizzard and chartreuse/blue back.
"I caught fish on flats in 10 to 15 feet of water," Garrett said. "The spots didn't hold many fish, but they were the right fish. I'd pull up and catch one then back off for an hour or so, then go back and get another one. I didn't want to milk it too bad."
Alex Heintze of Denham Springs, La., won the $750 Phoenix Boats Big Bass Award with the 7-7 hog he weighed Thursday. Greg Bohannan of Bentonville, Ark., caught a 7-4, which was the heaviest bass on Saturday.
Avery Williams, a 20-year-old from Murrells Inlet, S.C., topped the nonboater field with a two-day total of six bass weighing 17-6. Williams was in 10th place among nonboaters after Day 1, but only caught one fish until the closing minutes of Day 2. A pair of late catches helped him win the 116-person division.
Williams collected $13,147 for the win. Steven West of Mooreville, Miss., finished second with 15-10 and Clayton Ellis, of Saltillo, Miss., placed third with 15-6. West had the Big Bass among co-anglers with the 5-13 he caught Thursday, good for a $250 Big Bass prize from Phoenix Boats.
New to this year's Bassmaster Open Series is the Elite Qualifier division, with 175 participating anglers fishing each all nine events hoping to grab one of nine berths in the prestigious Bassmaster Elite Series in 2024.
After the first of nine Opens, the Top 10 in the points standings are Campbell with 199, followed Cannon with 198, Garrett with 197, Milliken with 196, Jack York of Emory, Texas, with 195, Logan Parks of Auburn, Ala., with 192, Jon Canada of Helena, Ala., with 191, Josh Bragg of Fayetteville, Ga., with 190, Wesley Gore of Clanton, Ala., with 189 and Jacob Bigelow of Cecil, Wis., with 188.
Though he earned the all-important Classic berth, Barnes is not participating in the EQs division.
Mainstreet Eufaula and the Eufaula Barbour County Chamber of Commerce hosted the St. Croix Bassmaster Open at Lake Eufaula.
2023 Bassmaster Opens Series Title Sponsor: St. Croix
2023 Bassmaster Opens Series Platinum Sponsor: Toyota
2023 Bassmaster Opens Series Premier Sponsors: Bass Pro Shops, Dakota Lithium, Humminbird, Mercury, Minn Kota, Nitro Boats, Power-Pole, Progressive Insurance, Ranger Boats, Rapala, Skeeter Boats, Yamaha
2023 Bassmaster Opens Series Supporting Sponsors: AFTCO, Daiwa, Garmin, Lew's, Marathon, Triton Boats, VMC
About B.A.S.S.
B.A.S.S., which encompasses the Bassmaster tournament leagues, events and media platforms, is the worldwide authority on bass fishing and keeper of the culture of the sport, providing cutting edge content on bass fishing whenever, wherever and however bass fishing fans want to use it. Headquartered in Birmingham, Ala., the 515,000-member organization's fully integrated media platforms include the industry's leading magazines (Bassmaster and B.A.S.S. Times), website (Bassmaster.com), TV show, radio show, social media programs and events. For more than 50 years, B.A.S.S. has been dedicated to access, conservation and youth fishing.
The Bassmaster Tournament Trail includes the most prestigious events at each level of competition, including the Bassmaster Elite Series, St. Croix Bassmaster Opens Series, TNT Fireworks B.A.S.S. Nation Series, Strike King Bassmaster College Series presented by Bass Pro Shops, Strike King Bassmaster High School Series presented by Academy Sports + Outdoors, Bass Pro Shops Bassmaster Team Championship, Yamaha Rightwaters Bassmaster Kayak Series powered by TourneyX, Yamaha Bassmaster Redfish Cup Championship presented by Skeeter and the ultimate celebration of competitive fishing, the Academy Sports + Outdoors Bassmaster Classic presented by Toyota.