May 25, 2023
ORANGE, Texas — Jason Christie is looking forward to another shot at Lone Star glory, but he's expecting significantly more resistance during the upcoming Folds of Honor Bassmaster Elite at Sabine River.
Competition days will be June 1-4 with daily takeoffs from the City of Orange Boat Ramp at 6 a.m. CT and weigh-ins each day at the ramp at 3 p.m. Full coverage will be available on Bassmaster.com.
When the Bassmaster Elite Series last visited Sabine in 2021, Christie was fishing his first season back on tour after a two-year absence. While notching a win just four events into his return gifted him a special memory he'd like to repeat, he's mentally preparing himself for a much more challenging scenario.
"I think one thing that's gonna throw a lot of us for a loop this time is that we're going way later than we've ever been," Christie said. "For one thing, it should be miserably hot. It's going to be, by far, the hottest event of the year and I think the fishing is going to be different from how it has been in years past.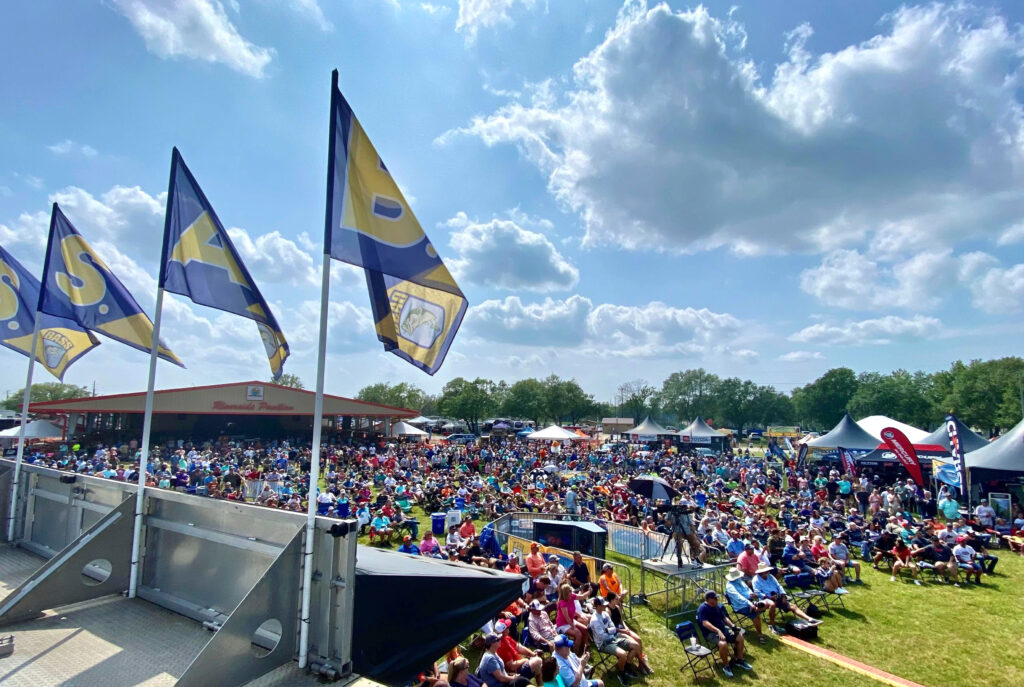 "We've always been there around the spawn. When the fish are around the spawn, they're kind of congregated in certain areas, either going up to spawn or coming off the spawn or getting ready. This time, we're going to be a couple of months after the spawn, so I can see the fish being spread out."
Christie said this scenario has the potential to be one of the season's toughest events. On the other hand, he's wondering if the timing might so greatly disperse the fish that it spreads the field, as opposed to the typically crowded spring groupings.
With the tournament site close to the Intracoastal Waterway, Gulf of Mexico tides impact most of the eligible waters, although tidal influence decreases the farther upriver you travel. With tournament boundaries reaching up to the Toledo Bend Dam, outfall current from this major Sabine River reservoir could bring positive impacts for anyone fishing north.
"Toledo Bend is a little above what we normally are (this time of year) but not too bad," said third-year Elite Darold Gleason, who lives and guides on Toledo Bend. "It might just make (the upper end of tournament waters) slightly dirtier, but it shouldn't be too negative. It will probably help some anglers to have some current."
As Christie explained, the event's playing field, plus the Sabine's seasonal pattern, will weigh heavily in this event's outcome. With tournament waters comprising both sides of the Sabine, all publicly accessible tributaries (Texas side only), the Intracoastal and the Houston area, competitors have a lot of water at their disposal.
In 2021, Christie ran approximately two hours upriver to a backwater creek just below the Toledo Bend Dam. On the opposite extreme, a handful of competitors — including Mississippi pro Brock Mosley, who led Day 1 of the 2021 event and ultimately finished second — made the long run west to the Houston area.
Making the trip the first three days, Mosley ran approximately 110 miles through the Intracoastal Waterway and across Galveston Bay. Despite having to allow time for fuel stops and enduring rough water when crossing the bay on a windy Day 2, Mosley's gamble nearly paid off. At the very least, he had his areas in Clear Creek all to himself.
Comparing the two extremes, Christie said his and Mosley's strategies exemplified a common theme that will likely confront the entire field. Options may be many, but decisions must be cautiously made.
"The thing about that place, it's not like a lake where you might say, 'I'm going to run down here by the dam and fish deep and if it doesn't work out, then I'll run midlake and try something different,'" Christie said. "Whenever you leave the boat ramp (on the Sabine), you're pretty much locked in to where you're going.
"The main areas are so spread out. You run 20 minutes down the river and then you run 20 minutes up another river. It's not like you can run out and run back and go up another place. You're committed."
Wherever anglers fish, competition days will likely see more quantity than quality. The Sabine River definitely holds big bass (Georgia's Micah Frazier won the 2021 Phoenix Boats Big Bass award with a 6-6), but those opportunities are few and far between.
"This fishery has some good ones in it, but it doesn't seem to have a lot of them, especially when we're confined to Texas waters," Christie said. "A lot of the Louisiana waters have more of the marsh habitat where you'd think that probably some bigger fish could live.
"You just have to focus from start to finish, not only hoping that you're going to get an above-average bite, but being ready for it and landing it. If you get an above-average bite, chances are you're not going to get two of them, so you don't want to mess that up."
Capitalizing on day-making opportunities always bodes well, but even more so on lean fisheries like the Sabine River.
"One big bite there can swing you 50 places (in the standings)," Christie said. "You catch four keepers and you put a 4-pounder in there and that can be a big difference."
Given the full-on summer patterns that will dominate this event, Christie expects anglers to focus on shallow wood, vegetation and docks. Predicting a 30-pound threshold to make the Top 10 and 43 pounds to win, he said spinnerbaits, topwaters, squarebills and Texas-rigged plastics will see a lot of playing time.
"By June, those fish have seen a lot of baits, they've seen a lot of traffic, and they're going to be educated," Christie said. "It's going to be a tough event, but everybody knows that — everybody knows it's going to be a grinder.
"This is going to be the fifth time we've been there, so there's not really any secrets left. It's gonna happen in a lot of different areas and now you're just going to have to figure out how to out-fish those guys that are fishing the same area you're fishing."
Despite the "everything's bigger in Texas" notion, it's likely someone will fare well with finesse standbys like the venerable wacky rig or a drop shot.
Notably, 2021 saw Japanese superstar Taku Ito showcase his skill and patience by catching several of his third-place fish during the afternoon heat when the tide went slack — basically, one of bass fishing's most challenging scenarios. While others threw moving baits in hopes of triggering reactions, Ito Neko rigged a Nories Sankaku-T-San, a T-shaped soft-plastic bait, and used painfully long presentations to coax key bites.
With the long-term forecast showing daytime highs in the upper 80s for tournament week, it's likely that the most successful anglers will be the ones who make the right location decisions, exercise the most patience and make the most of those big-fish opportunities.
Going into the sixth event of the nine-event Elite season, Greenwood, S.C., pro Brandon Cobb leads the Progressive Insurance Bassmaster Angler of the Year race with 485 points. Georgia pro Drew Cook is second with 436 points, followed by Louisiana's Tyler Rivet in third with 415, Florida's John Cox in fourth with 414 and Alabama's Kyle Welcher in fifth with 413.
Alabama rookie Will Davis Jr. — winner of the last Elite event — leads the Dakota Lithium Bassmaster Rookie of the Year race with 383 points, followed by fellow Alabama pro David Gaston in second with 369 and California pro Bryant Smith in third, also with 369.
In addition to the popular Bassmaster Outdoors Expo and daily weigh-ins, fans can enjoy four days of festivities, including live music, at the Orange County River Festival.
New for 2023, fans can enjoy predictions, conditions and live hits from the lake as part of the LIVE Preview show streaming on Bassmaster.com Wednesday, May 31 at 8 a.m. CT. Bassmaster LIVE kicks off tournament coverage Thursday and Friday mornings at 7 a.m. on Bassmaster.com, Tubi and the FOX Sports platforms while FS1 will broadcast live with the tournament leaders Saturday and Sunday.
The Folds of Honor Bassmaster Elite at Sabine River is being hosted by the Greater Orange Chamber of Commerce.
2023 Bassmaster Elite Series Platinum Sponsor: Toyota
2023 Bassmaster Elite Series Premier Sponsors: Bass Pro Shops, Dakota Lithium, Humminbird, Mercury, Minn Kota, Nitro Boats, Power-Pole, Progressive Insurance, Ranger Boats, Rapala, Skeeter Boats, Yamaha
2023 Bassmaster Elite Series Supporting Sponsors: AFTCO, Daiwa, Garmin, Lew's, Marathon, Triton Boats, VMC
2023 Bassmaster Conservation Partners: AFTCO, Yamaha Rightwaters
Connect with #Bassmaster on Facebook, Instagram, Twitter and TikTok.
About B.A.S.S.
B.A.S.S., which encompasses the Bassmaster tournament leagues, events and media platforms, is the worldwide authority on bass fishing and keeper of the culture of the sport, providing cutting edge content on bass fishing whenever, wherever and however bass fishing fans want to use it. Headquartered in Birmingham, Ala., the 515,000-member organization's fully integrated media platforms include the industry's leading magazines (Bassmaster and B.A.S.S. Times), website (Bassmaster.com), TV show, radio show, social media programs and events. For more than 50 years, B.A.S.S. has been dedicated to access, conservation and youth fishing.
The Bassmaster Tournament Trail includes the most prestigious events at each level of competition, including the Bassmaster Elite Series, St. Croix Bassmaster Opens Series, TNT Fireworks B.A.S.S. Nation Series, Strike King Bassmaster College Series presented by Bass Pro Shops, Strike King Bassmaster High School Series presented by Academy Sports + Outdoors, Bass Pro Shops Bassmaster Team Championship, Yamaha Rightwaters Bassmaster Kayak Series powered by TourneyX, Yamaha Bassmaster Redfish Cup Championship presented by Skeeter and the ultimate celebration of competitive fishing, the Academy Sports + Outdoors Bassmaster Classic presented by Toyota.