Timmy Reams 22-3
When the NPFL visited Wright Patman in 2021, Timmy Reams finished in the 20th spot and left a lot of weight on the table with some misfortune. This year, the tables have turned and Reams connected with a new 6-pounder to anchor his 22-pound, 3-ounce day-one leading weight.
After a decent practice, Reams figured out on day two a few areas he could get some quality bites later in the day. He spent the morning fishing some new water and things started slow for the West Virginia angler.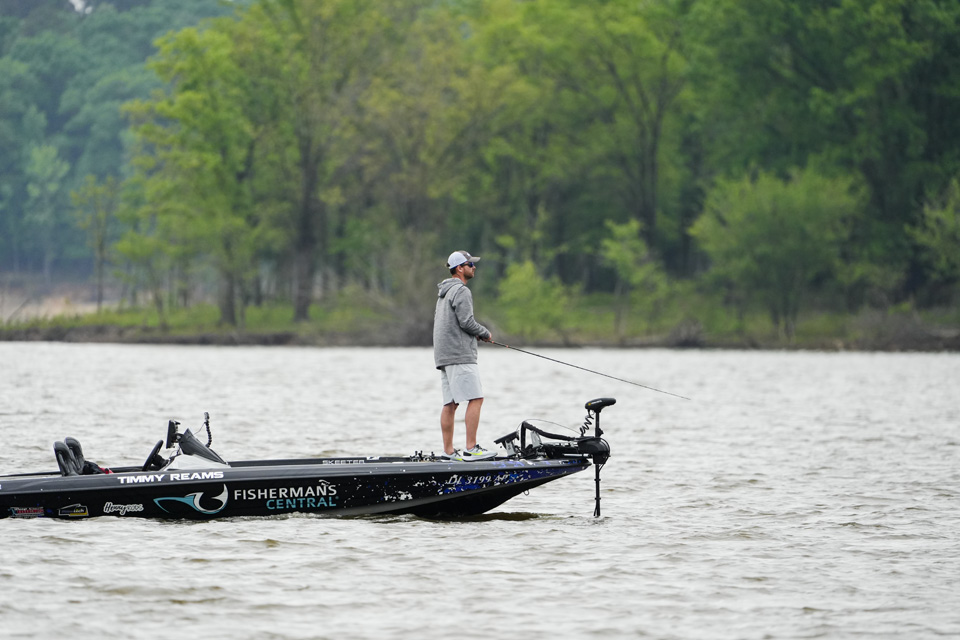 "My best bites in practice were in the afternoon so today I left that stuff alone for a while," said Reams. "Once I got in the area, things were on fire and I was able to get four big bites in my spot pretty quickly, and I even had a 2-pounder in my bag at the end of the day."
Reams focused on similar places as his previous trip to Texarkana but noted that several things are "new" this time around. He has his area to himself today and is looking forward to getting back out on day two.
"There was nobody where I was at and certainly not anyone doing the same type of thing," he added. "Tomorrow, I am thinking I will run some new water again in the morning and try to expand on changing water, and then get back and go to work on my main areas."
Sheldon Collings
Finishing third in 2021, Oklahoma anger Sheldon Collings picked up where he left off and brought a 20- pound, 7-ounce bag of Wright Patman bass to the scales to finish day one of 2023 in the third-place spot as well. Anchored by a 6-pound, 7-ounce kicker. Like others, Collings found the changing conditions more challenging this go around throughout practice and made a day-one adjustment to catch his weight.
"It was tough for me this week," said Collings. I ran a lot of new water today that I have never fished, in 2021 or practice. I caught a lot of fish and had a small limit before culling everything out in about 30 minutes this afternoon. I don't know if it was timing or the area, but I will see what happens tomorrow."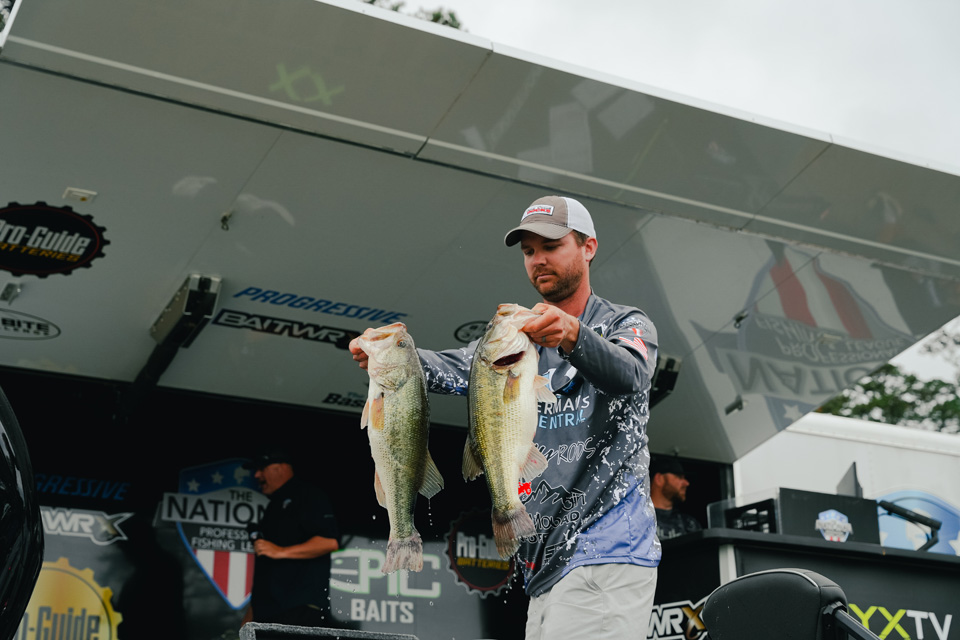 Brad Staley
With 18 pounds, 5 ounces on the day, North Carolina angler Brad Staley overcame a tough practice and lower water to finish the day in the third-place spot.
"I had two tough days of practice and one decent day," said Staley. "My game plan today was to expand on that good day and I was fortunate that it worked out. With everything changing, the water level, and the weather we have, I will keep on bobbing and weaving to stay with the fish."
After watching the event from home in 2021, Staley had hoped the bushes would play, but when practice began, he knew he has to change his approach. "I figured out a few key things in practice and I learned where some of the fish were sitting and I am thinking more will be moving to me as the week goes along," he added.
Louis Fernandes
After a tough go in 2021, Louis Fernandes made the right adjustments using his day as a practice day in an effort to conserve his main areas. His weight of 18 pounds, 4 ounces was enough to put him in fourth place after the first day of competition.
"I made some key adjustments in practice and knew the fish were mostly done spawning," said Fernandes. "I am playing some chess this week and basically left my best spots alone today and just went fishing."
His goal was to "junk" fish his way to a limit and then try and expand on his learnings from practice while gearing up for increased pressure the next two days. "The fish are going to get pressured hard and the fishing will get super tough. For that reason, I left
things alone and it's working out even better for me as I found some new stuff today that I can fish tomorrow," he added. "I am fishing around, chasing bait balls, fishing some brush, and whatever looks good."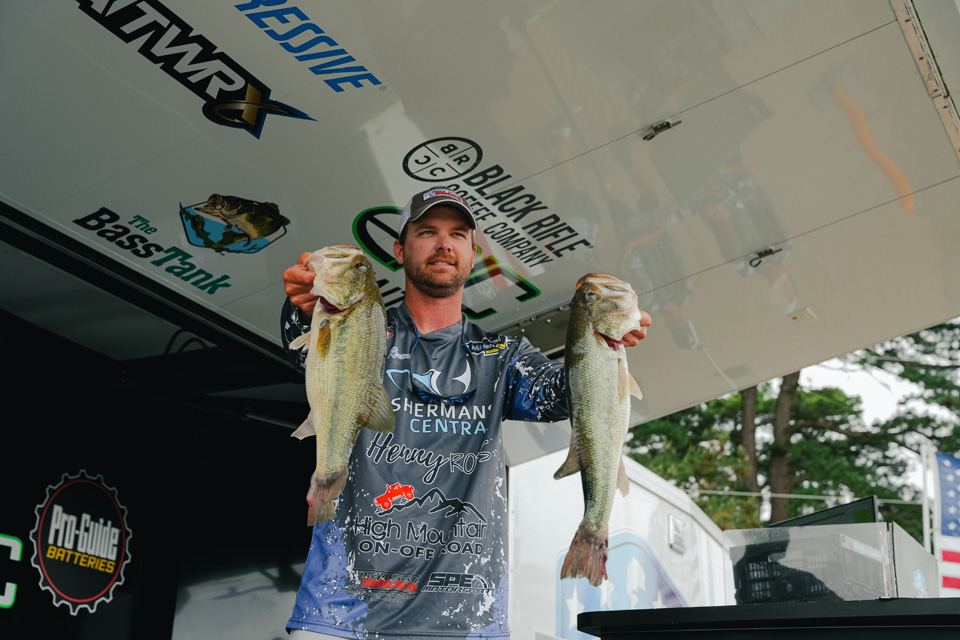 Nick Brown
Rounding out the top five, Texas angler Nick Brown expanded on his practice period to put together a limit that weighed 18 pounds, 1 ounce on the day. Brown learned a few key details on the final day of practice and executed them while fishing around several other anglers.
"I figured out more about what is going on out here on the final practice of practice and it went well today," said Brown. "I had guys around me and I was able to get some key bites, and caught multiple limits of bass."
Brown is focusing on a variety of shallow covers and noted key subtleties in the cover and water clarity that lead to his day one success.
Rest of the best:
Marc Schilling 17-15
Brian Hatfield 17-12
Barron Adams 17-8
Quentin Cappo 17-2

Check out the Day One Leaderboard, here!
How to Watch
Tune in tomorrow and Saturday to watch daily action from Wright Patman, with Live Coverage here and on the FREE PHYX TV App from 8 AM to 1 PM. Follow along and watch the daily LIVE Leaderboard, LIVE Blog, and on-the-water photo galleries and
blogs of the anglers on Wright Patman.
Under the Go Live Tab, choose LIVE Broadcast or check out the real-time leaderboard on the Weigh Live Tracker with estimated weights entered by the anglers on the water and join us for the LIVE Weigh-ins, here!
Check out the results from day one on Wright Patman Lake, here! And be sure to follow us on Instagram, Facebook, YouTube, & Twitter!