April 21st, 2023.
Barron Adams  
With two keep early to calm him down including a 6-pounder, Barron Adams added 18-pounds, 10 ounces to his day one bag to take the lead going into a showdown Saturday with a total weight of 36-pounds, 2 ounces. Although it looks good on paper, his solid performance could have been stellar with a few key missed opportunities.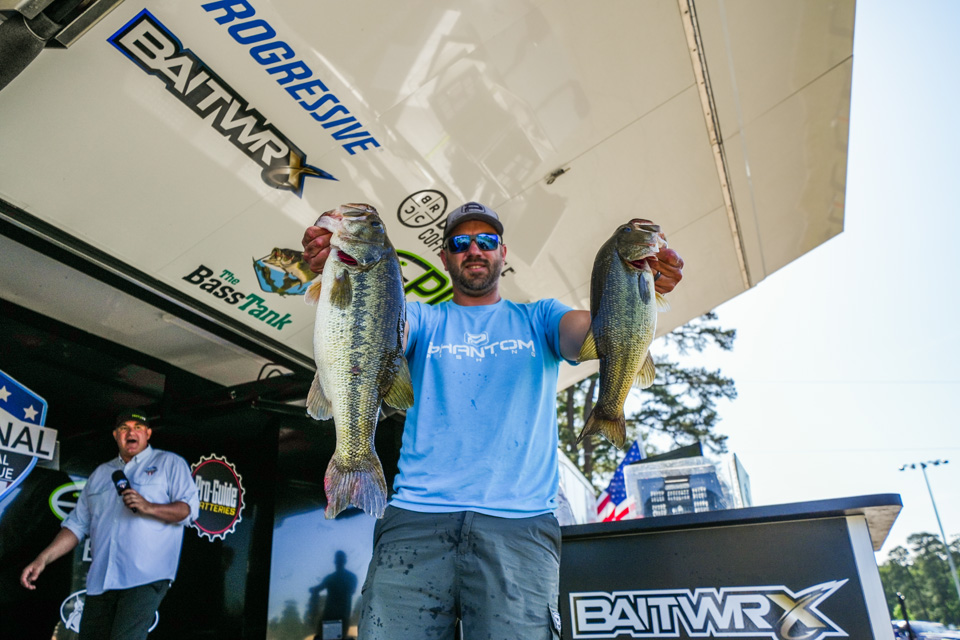 "I should have had a really good day but they were biting weird and some good ones pulled off on me," said Adams. "Once I made a move to my second spot, the wind had dirtied the place up and was blown out."
With two fish short of a solid limit, Adams made a move at 2 PM that saved his tournament and propelled him into the lead.
"I went into an area and caught two fish back-to-back," he added. "Those fish saved my day and the way I am fishing; I can get behind guys and catch them. Tomorrow, I feel like I can catch limit fish but to win, I need those bigger bites."
Sheldon Collings
Sheldon Collings had a slow day two, but his 14-pound, 5 ounces was enough to slide him into the second spot with a two-day weight of 34 pounds, 12 ounces. Collings has been targeting a shad spawn to start his mornings, but the wind and waves put a damper on his plans this morning.
"I don't know if those shad and bass were gone, or the wind scattered them," said Collings. "I had to go for plan B today."
Collings only landed five keeper bites on the day and missed out on another 18 to 20-pounds that missed his topwater frog. When one misses, on a couple of occasions he could get a bass to commit with a follow-up bait.
"That's how I caught my biggest bass today; I missed one and told myself I was going to flip in and see if it would bite," he added. "As soon as the bait hit the water, he smoked it and I got him in the boat."
Collings is focused on winning this event, and knows if he can get the bites in the boat, he will have a shot.
Timmy Reams
Day one leader Timmy Reams opted to save his main area for the afternoon bite on day one, and on day two that plan was much more difficult. Reams junk fished his way to an 11-pound, 15-ounce limit and a two-day total of 34 pounds, 2 ounces.
"I started the same today, but the wind was affecting a lot of what I wanted to do," said Reams. "I love several key fish today and they were hitting the bait differently; not committing to it."
Reams scratched and clawed his way around some of his areas, and has one clean water area for day three.
"I'm going to start in that clean water and continue my reaction bait deal," he added. "I have nothing to lose but stick with what got me here."
Michael Yoder
Local angler Michael Yoder junk-fished his way back into the tournament on day two with the day's biggest bag of 18 pounds, 11 ounces. With a two-day total of 33 pounds, 12 ounces, Yoder goes into Showdown Saturday in the fourth-place spot.
Despite plans to settle in and not run around as much, Yoder moved around with muddy conditions and kept his bait in high percentage areas until he found fish willing to bite.
"I definitely moved more than I planned, but I am back in this event and look forward to getting out there tomorrow."
Todd Goade
With 15 pounds, 8 ounces on day two, Todd Goade moves into the second-place spot with a two-day total weight of 32 pounds, 9 ounces. With the water muddying and the water column full of sediment in some areas, Goade expanded on his "decent" practice and put himself in the top five after two days of fishing.
"I had four fish at one and slipped into an area I had been saving," said Goade. "I caught that 5-pounder right off and culled four more times. Those fish turned my day around."
Goade still had not touched two areas from practice and hoped his swim jig bite will hold up for one more day.
"I am focusing on key bushes, and key-looking water, and skipping that jig as far back as I can up to where the bass are sitting; It is super fun," he concluded.
Rest of the best: 
Ryan Satterfield 31-11
Brad Staley 30-7
Keith Carson 29-14
Jesse Wise 29-8
Louis Fernades 28-11