August 18, 2023
CLAYTON, N.Y. — The very thing that makes the St. Lawrence River/Lake Ontario fishery one of the nation's premier destinations has, in recent years, increased its challenge level. Suffice it to say, the world is well aware of what swims in these pristine waters. But despite ever-increasing attention, Canadian standout and Bassmaster Elite Series pro Jeff Gustafson expects fireworks for the Minn Kota Bassmaster Elite at St. Lawrence River.
Competition days will be Aug. 24-27 with daily takeoffs from the Antique Boat Museum at 7 a.m. ET and weigh-ins each day back at the museum at 3 p.m. Full coverage will be available on Bassmaster.com.
"From reading about the recent (St. Croix Bassmaster Open held in July), it sounded like the fishery is getting a lot of pressure and it's getting harder to fish," said Gustafson, the reigning champion of the Academy Sports + Outdoors Bassmaster Classic presented by Toyota. "It's not as easy as it used to be to just go out and catch fish.
"Even though everybody wants to fish the St. Lawrence River and Lake Ontario right now, it still remains the top smallmouth destination for me and many anglers because of the crazy numbers of big fish."
A historically healthy fishery with an abundant natural forage base of crawfish, alewives, smelt and darters, bolstered by tremendous numbers of invasive gobies, the St. Lawrence never fails to impress. However, last year's Elite event on this fishery yielded particularly astounding results, which helped it earn the No. 2 overall spot on the 2023 Bassmaster Magazine 100 Best Bass Lakes list.
For the first time in B.A.S.S. history, the 100-pound mark was broken with all smallmouth bass. Elite veteran Cory Johnston holds the honor of reaching that mark first with his second-place total of 100 pounds, 5 ounces, while then-rookie Jay Przekurat eventually won the tournament with 102-9 of all smallmouth. Several others came close to earning the coveted Century Club belt, as each of the Top 5 broke 98 pounds.
Central to the likelihood of another strong showing is the tournament's takeoff site. Clayton, N.Y., sits about 12 1/2 nautical miles from Cape Vincent where Lake Ontario flows into the St. Lawrence. This proximity puts into play the entirety of tournament boundaries — from Lake Ontario downriver to the Moses-Saunders Dam at Massena.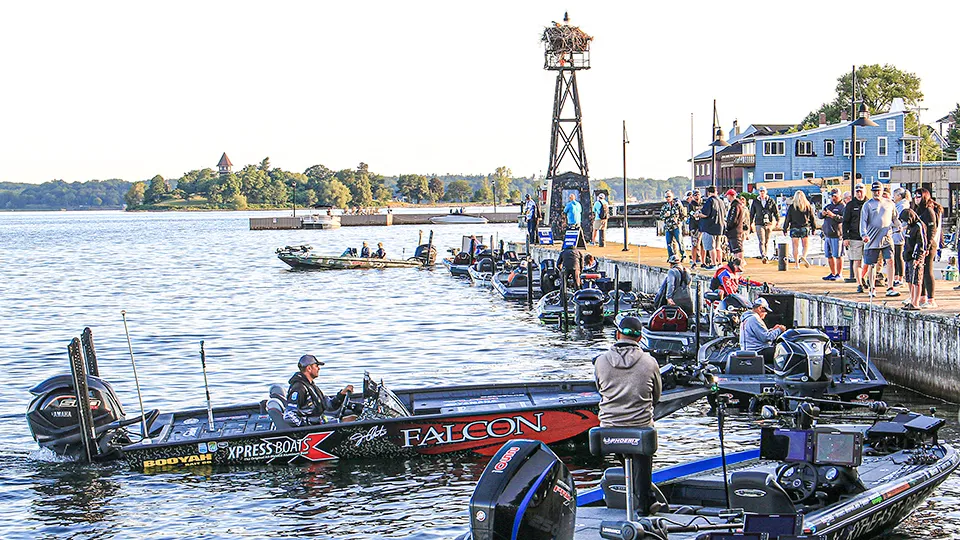 While the river's shoals and boulder-strewn flats hold plenty of competitive smallies — along with a mostly underutilized population of largemouth like the ones Brock Mosley exploited for his third-place finish at the Elite event held here in 2020 — conventional wisdom has long held that winning bags come from Lake Ontario. For one thing, the swift current created by a Great Lake piling into a river's narrower form means St. Lawrence fish expend more energy and burn more calories.
By comparison, lake fish can stake out favorable habitat, gorge on gobies and maintain most of their weight. The St. Lawrence will likely kick out a big bag or two, and hearing of Top 10 anglers weighing in a mix of lake and river bass is not uncommon. But when anglers can fish Lake Ontario, the biggest weights come from the big waters.
And then there's the access thing. As Gustafson notes, the river, with its famed 1000 Islands region (technically, 1,864 official islands), offers a lot of protected waters. The St. Lawrence is no cakewalk on windy days, but there is nothing like an angry Lake Ontario.
"Because of the weather and how big the lake is, those fish get protected to the point that they're not getting pounded on every day," Gustafson said. "That's the main variable — the wind takes the fun out of that place real quick if it starts blowing.
"On Lake Ontario, if you start pushing 15 mph, you're gonna start to be uncomfortable out there."
A rough Ontario's certainly not for the faint of heart, but even those made of sturdier stuff still find the big waves problematic. Forward-facing sonar plays an intrinsic role in the smallmouth hunt, but when bows pitch skyward, trolling motors and sonar transducers become less effective.
Anywhere on the St. Lawrence/Lake Ontario fishery it's hard to consistently beat a drop shot, but anglers will also catch fish on Ned rigs, jerkbaits, crankbaits and wacky- or Neko-rigged worms. In shallow-lake scenarios, a topwater occasionally tempts aggressive bass, while a light marabou jig can work wonders.
As Gustafson points out, a Carolina rig often proves productive, especially on those bouncy days. With a big weight punching through the wind and keeping your bait on the bottom, this leadered presentation can be a day saver.
"On that body of water, it seems like there's always some big fish up shallow," Gustafson said of Lake Ontario's perimeter opportunities. "There are a lot of flats in that primo depth of 4 to 10 feet with a mix of sand and boulders.
"With the water being as clear as it is, if you get a nice day when it's sunny and bright and calm, that seems to get those shallow fish more active and they're easy to see. When it gets dark and cloudy and hard to see, it makes that program not as good."
If the weather allows full access to tournament waters, most of the field will spend at least part of their time in Lake Ontario. For this scenario, Gustafson expects anglers will need 22 1/2 to 23 pounds a day to make the Top 10. For a four-day winning total, he expects 100 pounds.
"The only thing that could really jeopardize that is if we have really rough weather that prevents us from fishing the way we want to fish," he said. "As long as we don't have any monster wind days, I think it's going to take some weight.
"It's pretty exciting going to a smallmouth venue knowing that you've got to catch 25 a day to be a player. It's kinda scary, but it's also exciting, for sure."
However the numbers shake out, there will be more at stake than the coveted blue trophy and the $100,000 first-place prize. The winner will earn an automatic berth into the 2024 Academy Sports + Outdoors Bassmaster Classic presented by Toyota. This final tournament will also decide the winners of both the Progressive Insurance Bassmaster Angler of the Year title and the Dakota Lithium Bassmaster Rookie of the Year race.
The Phoenix Boats Big Bass of the Year $10,000 bonus will also be awarded. Currently, Jason Christie's 9-4 Lay Lake largemouth holds this honor.
Bassmaster LIVE kicks off tournament coverage Thursday and Friday mornings at 8 a.m. ET on Bassmaster.com, Tubi and the FOX Sports platforms, while FS1 will broadcast live with the tournament leaders Saturday and Sunday.
The Bassmaster Elite at St Lawrence River is being hosted by the 1000 Islands Clayton Chamber of Commerce.
2023 Bassmaster Elite Series Platinum Sponsor: Toyota
2023 Bassmaster Elite Series Premier Sponsors: Bass Pro Shops, Dakota Lithium, Humminbird, Mercury, Minn Kota, Nitro Boats, Power-Pole, Progressive Insurance, Ranger Boats, Rapala, Skeeter Boats, Yamaha
2023 Bassmaster Elite Series Supporting Sponsors: AFTCO, Daiwa, Garmin, Lew's, Marathon, Triton Boats, VMC
2023 Bassmaster Conservation Partners: AFTCO, Yamaha Rightwaters
Connect with #Bassmaster on Facebook, Instagram, Twitter and TikTok.

About B.A.S.S.
B.A.S.S., which encompasses the Bassmaster tournament leagues, events and media platforms, is the worldwide authority on bass fishing and keeper of the culture of the sport, providing cutting edge content on bass fishing whenever, wherever and however bass fishing fans want to use it. Headquartered in Birmingham, Ala., the 500,000-member organization's fully integrated media platforms include the industry's leading magazines (Bassmaster and B.A.S.S. Times), website (Bassmaster.com), TV show, radio show, social media programs and events. For more than 50 years, B.A.S.S. has been dedicated to access, conservation and youth fishing.
The Bassmaster Tournament Trail includes the most prestigious events at each level of competition, including the Bassmaster Elite Series, St. Croix Bassmaster Opens Series, TNT Fireworks B.A.S.S. Nation Series, Strike King Bassmaster College Series presented by Bass Pro Shops, Strike King Bassmaster High School Series presented by Academy Sports + Outdoors, Bass Pro Shops Bassmaster Team Championship, Yamaha Rightwaters Bassmaster Kayak Series powered by TourneyX, Yamaha Bassmaster Redfish Cup Championship presented by Skeeter and the ultimate celebration of competitive fishing, the Academy Sports + Outdoors Bassmaster Classic presented by Toyota.