September 6, 2023
BIRMINGHAM, Ala. — For the first time since 2018, the Bassmaster Elite Series won't be kicking off its season in Florida, opting instead to open its 2024 slate at the big-bass factory of Toledo Bend Reservoir on the Louisiana/Texas border Feb. 22-25.
Read more

: B.A.S.S. announces 2024 Bassmaster Elite Series schedule with nine events in six states – News Share
B.A.S.S. officials made that announcement Wednesday, along with the entirety of a nine-tournament schedule that will span six states and visit fisheries that have ranked among the best in the United States, both recently and historically.
CEO Chase Anderson said that, with the 2023 season in the books, B.A.S.S. is anxious to tackle what is certain to be an action-packed 2024 lineup.
"We just finished one of our best seasons ever only two weeks ago, and it is already time to start marking your calendar for another incredible year," Anderson said. "Anyone who follows and celebrates the sport of bass fishing will recognize the lakes on this schedule as some of the best fisheries anywhere, and we could not be more excited to get it started with the top anglers in the world competing on bass fishing's biggest stage."
The opener on Toledo Bend will take place out of Many, La., and will mark the 19th time B.A.S.S. has held a major event on the fishery that ranked sixth overall on Bassmaster Magazine's annual 100 Best Bass Lakes list. The gigantic fishery, which covers 185,000 acres across two states, has topped the list of 100 Best Bass Lakes twice in the past (2015, 2016).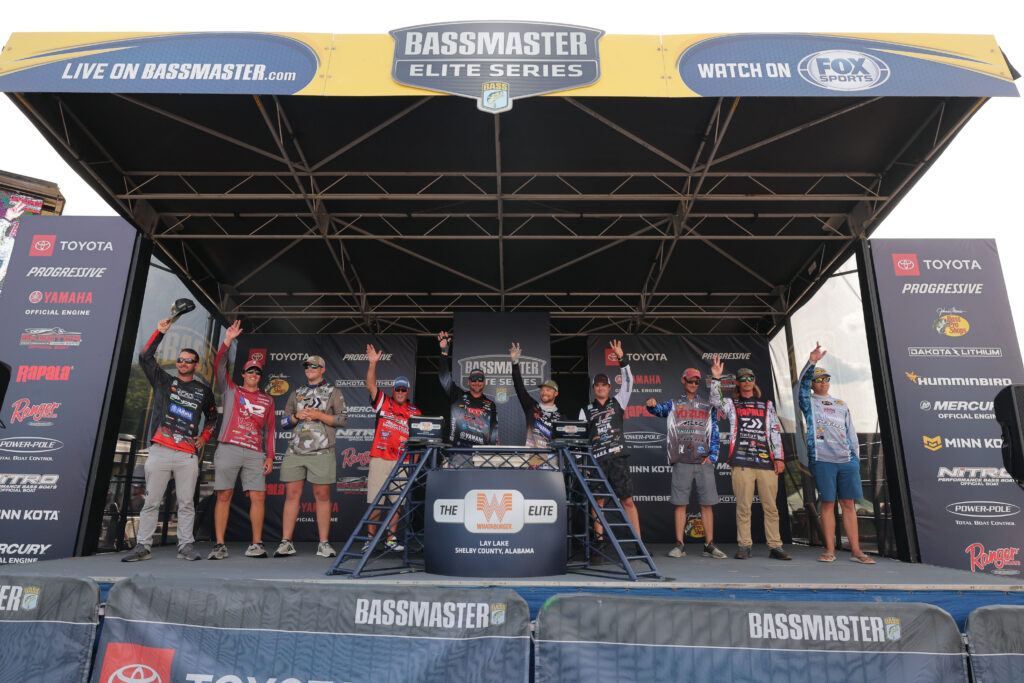 B.A.S.S. last visited Toledo Bend this past April for a St. Croix Bassmaster Open that was won by Texas pro Ben Milliken with a three-day total of 77 pounds, 14 ounces — a mark that would have put him well on pace for a 100-pound performance and a century belt in a four-day competition.
From Toledo Bend, the Elites will travel just west to another of the nation's big-bass capitals, Lake Fork, which placed third in the Central Division of Bassmaster Magazine's 2023 100 Best Bass Lakes list. The Elites will fish out of a newly built facility in Yantis, Texas, Feb. 29-March 3, with the same catch-weigh-release format that has produced Century Club performances the last four times B.A.S.S. has visited the 27,264-acre impoundment. Brandon Cobb (2019), Patrick Walters (2020) and Lee Livesay (2021, 2022) all topped the 100-pound mark with their victories there.
"The Sabine River Authority is excited to host the upcoming Bassmaster Elite Series at SRA's new Caney Point Recreation Area on Lake Fork Reservoir," said David Montagne, SRA general manager. "This new facility was developed to attract major tournaments and bring enhanced recreational opportunities to Lake Fork enthusiasts."
After a pause in the schedule for the Academy Sports + Outdoors Bassmaster Classic presented by Toyota in Tulsa, Okla., on Grand Lake O' the Cherokees March 22-24, the 2024 Elite slate will make its annual trip to the Sunshine State — a little later than usual — with tournaments on the Harris Chain of Lakes (April 11-14, Leesburg, Fla.) and the St. Johns River (April 18-21, Palatka, Fla.).
B.A.S.S. has made 42 combined visits to those fisheries for major tournaments, but the timing of these events should make different strategies and techniques viable beyond the tried-and-true sight-fishing methods that have ruled earlier events in years past. Tennessee pro Buddy Gross won with 77-11 the last time B.A.S.S. visited the Harris Chain for an Elite event, and Virginia's John Crews won with the last Elite on the St. Johns with 75-4 — both in 2022.
The Elites will leave Florida and travel north to South Carolina for a return visit to Lake Murray — a fishery that provided one of the more entertaining events on the 2023 schedule, with Florida pro Drew Benton catching 87 pounds for the victory. The sprawling 50,000-acre lake placed fourth overall on Bassmaster Magazine's list of 100 Best Bass Lakes after producing 49 limits of 20 pounds or more. The 2024 Lake Murray event will be held May 9-12 near Columbia, S.C.
From there, it'll be on to Alabama for a pair of events on two vastly different fisheries.
A trip to Wheeler Lake in Decatur, Ala., June 13-16, will see anglers vying for mixed bags of largemouth and smallmouth on the 67,070-acre Tennessee River fishery that has hosted 13 major B.A.S.S. events. Most recently, Wisconsin pro Adam Rasmussen won a Bassmaster Open on Wheeler in May with a three-day total of 54-15.
The event will be held out of Ingalls Harbor, a first-class facility that covers 27 acres.
"We are thrilled that Decatur, Ingalls Harbor and Wheeler Lake will be included in the 2024 Elite schedule," said Don Dukemineer, director of sports development for Decatur Morgan County Tourism. "Decatur has not hosted an Elite since 2016, and we are ready to work with B.A.S.S. to return the energy, passion and excitement of the event to our community and fishing fans throughout north Alabama.
"Ingalls Harbor has been described as the 'perfect location' by tournament organizers, and we tend to agree. The opportunity to host will strengthen our continued partnership with B.A.S.S. in helping to spotlight the amazing capabilities the facility offers. Hosting the top anglers from across the country will be a big benefit to Decatur-Morgan County, and we can't wait to welcome them in 2024."
After targeting largemouth and smallmouth on Wheeler, the Elites will head to Lewis Smith Lake in Cullman, Ala., June 27-30, for an event where big spotted bass are likely to play a key role. Smith has always been known for numbers of spots, but the size of its bass has increased greatly in recent years due to the presence of blueback herring as their main food source.
B.A.S.S. has visited Smith 11 times for major events, with Virginia pro Jacob Powroznik most recently winning an Open there in 2021 with 37-9. However, this will be the first time the Elite Series has visited the deep, clear fishery that covers 21,200 acres.
"Visit Cullman, the City of Cullman and Cullman County are excited to be hosting the first Bassmaster Elite on Lewis Smith Lake," said Hugh A. Stump III, tourism director for the Cullman County Tourism Bureau. "A partnership with B.A.S.S. gives us a chance to showcase our wonderful fishery, Smith Lake Park and our Cullman community."
With the Progressive Insurance Bassmaster Angler of the Year and Dakota Lithium Bassmaster Rookie of the Year races coming down the home stretch, the Elites will once again finish their season in New York with events on Lake Champlain in Plattsburgh, N.Y., Aug. 8-11, and the St. Lawrence River in Waddington, N.Y., Aug. 15-18.
Champlain, which is known for good populations of largemouth and smallmouth, showed out on the smallmouth front this year as Japanese rookie Kyoya Fujita won with a four-day limit of brown fish that weighed 86-12 in August. The 2024 tournament will mark the 16th major B.A.S.S. event on this scenic 271,000-acre fishery that separates New York and Vermont.
Fans of the sport no doubt still have this year's St. Lawrence River event fresh in their minds since just two weeks ago Walters won the 2023 season finale there with a 105-pound total that stands as the biggest four-day limit of smallmouth ever weighed in for B.A.S.S. competition. The fabulous event, which marked the 25th major visit for B.A.S.S. to the St. Lawrence, produced four century belts, and the Top 10 all finished with at least 90 pounds.
The St. Lawrence ranked second overall on Bassmaster Magazine's 100 Best Bass Lakes list this year after topping the list in 2019 and 2022.
"Watching anglers catch gigantic bags of smallmouth is a great way to end any season," said Lisa Talmadge, Bassmaster Elite Series tournament director. "Our anglers are the best in the world, and by the time we reach the St. Lawrence to finish up, any one of them could be sitting in position to win Angler of the Year.
"As it was this year, it'll be a great end to a great season."
Since the start of the year, more than 10.4 million viewers have watched Bassmaster coverage on the FOX networks and, once again, fans in 2024 can catch all nine Bassmaster Elite Series events as well as Bassmaster Classic live television coverage on the FOX Sports platforms.
For complete coverage of the Elite Series, visit Bassmaster.com.
2024 Bassmaster Elite Series Schedule
Feb. 22-25, Many, La., Toledo Bend Reservoir
Feb. 29-March 3, Yantis, Texas, Lake Fork
March 22-24, Bassmaster Classic, Tulsa, Okla., Grand Lake O' the Cherokees
April 11-14, Leesburg, Fla., Harris Chain of Lakes
April 18-21, Palatka, Fla., St. Johns River
May 9-12, Columbia, S.C., Lake Murray
June 13-16, Decatur, Ala., Wheeler Lake
June 27-30, Cullman, Ala., Smith Lake
Aug. 8-11, Plattsburgh, N.Y., Lake Champlain
Aug. 15-18, Waddington, N.Y., St. Lawrence River
Bassmaster Elite Series Platinum Sponsor: Toyota
Bassmaster Elite Series Premier Sponsors: Bass Pro Shops, Dakota Lithium, Humminbird, Mercury, Minn Kota, Nitro Boats, Power-Pole, Progressive Insurance, Ranger Boats, Rapala, Skeeter Boats, Yamaha
Bassmaster Elite Series Supporting Sponsors: AFTCO, Daiwa, Garmin, Lew's, Marathon, Triton Boats, VMC
Bassmaster Conservation Partners: AFTCO, Yamaha Rightwaters
Connect with #Bassmaster on Facebook, Instagram, Twitter and TikTok.

About B.A.S.S.
B.A.S.S., which encompasses the Bassmaster tournament leagues, events and media platforms, is the worldwide authority on bass fishing and keeper of the culture of the sport, providing cutting edge content on bass fishing whenever, wherever and however bass fishing fans want to use it. Headquartered in Birmingham, Ala., the 500,000-member organization's fully integrated media platforms include the industry's leading magazines (Bassmaster and B.A.S.S. Times), website (Bassmaster.com), TV show, radio show, social media programs and events. For more than 50 years, B.A.S.S. has been dedicated to access, conservation and youth fishing.
The Bassmaster Tournament Trail includes the most prestigious events at each level of competition, including the Bassmaster Elite Series, St. Croix Bassmaster Opens Series, TNT Fireworks B.A.S.S. Nation Series, Strike King Bassmaster College Series presented by Bass Pro Shops, Strike King Bassmaster High School Series presented by Academy Sports + Outdoors, Bass Pro Shops Bassmaster Team Championship, Yamaha Rightwaters Bassmaster Kayak Series powered by TourneyX, Yamaha Bassmaster Redfish Cup Championship presented by Skeeter and the ultimate celebration of competitive fishing, the Academy Sports + Outdoors Bassmaster Classic presented by Toyota.