August 27, 2023
CLAYTON, N.Y. — Despite some anxious moments on the final day of the Bassmaster Elite Series season, "The Cowboy" rode off into the sunset with some major new hardware to admire.
With a total of 698 points, Joey Cifuentes III secured the Dakota Lithium Bassmaster Rookie of the Year title, holding off a hard-charging Kyoya Fujita for the prestigious honor.
Read more >>>

: Cifuentes secures Bassmaster Rookie of the Year title – News Share
Not only did Cifuentes earn the $10,000 top prize, he finished fifth in the Progressive Insurance Bassmaster Angler of the Year standings and will compete in his first Academy Sports + Outdoors Bassmaster Classic presented by Toyota in Tulsa next March.
"It was one of my goals coming into this year," Cifuentes said. "It is a really tough thing to do, but I am really proud of myself. I fished really well and made the right decisions. It feels really good."
The Clinton, Ark., pro entered the Minn Kota Bassmaster Elite at St. Lawrence River with a 15-point lead over Fujita, who has won four AOY titles in his home country of Japan. That lead dwindled as the event progressed and Fujita qualified for Championship Sunday.
Cifuentes, who finished 17th, had to watch the final day from the sidelines but knew Fujita would have to win it all to unseat him as ROY.
"I watched it a little bit. I wasn't really nervous. I knew he had to have 27 or 28 pounds, something really big, to win," Cifuentes said. "The kid is phenomenal. Who knows what he is going to do in the future as well as the other anglers in the class. I can't believe I pulled it off."
The 2023 rookie class was one of the most impressive in recent memory. Cifuentes won two Elite Series events, while Fujita and Will Davis Jr. each won one. In total, six rookies will fish in the 2024 Classic at Grand Lake O' the Cherokees with the potential for a seventh, depending on how the rest of the St. Croix Bassmaster Opens season plays out.
Trusting his instincts and good decision making carried Cifuentes, a former FLW Tour pro, throughout the year. Fear did not factor into the equation.
"I wasn't afraid to fail and trusted my instincts," he said. "That is how guys win Angler of the Year and Rookie of the Year. I fished to win several tournaments and succeed."
Cifuentes showed he would be a player for both ROY and AOY early on, finishing 19th at the season opener on Lake Okeechobee before notching his first Elite Series victory at Lake Seminole.
"That boosted my confidence, which was huge," he said. "You go into the Elite Series not knowing what to expect. I didn't know if I could compete with these guys. I made a Top 20 at Okeechobee and thought I could do this, and then I won. It takes a lot of weight off your shoulders."
Although he stumbled during the Carolina swing with a 92nd-place finish at Murray and a 58th at Santee Cooper, Cifuentes notched back-to-back Top 30s at Lay Lake and the Sabine River to wrap up the Southern schedule.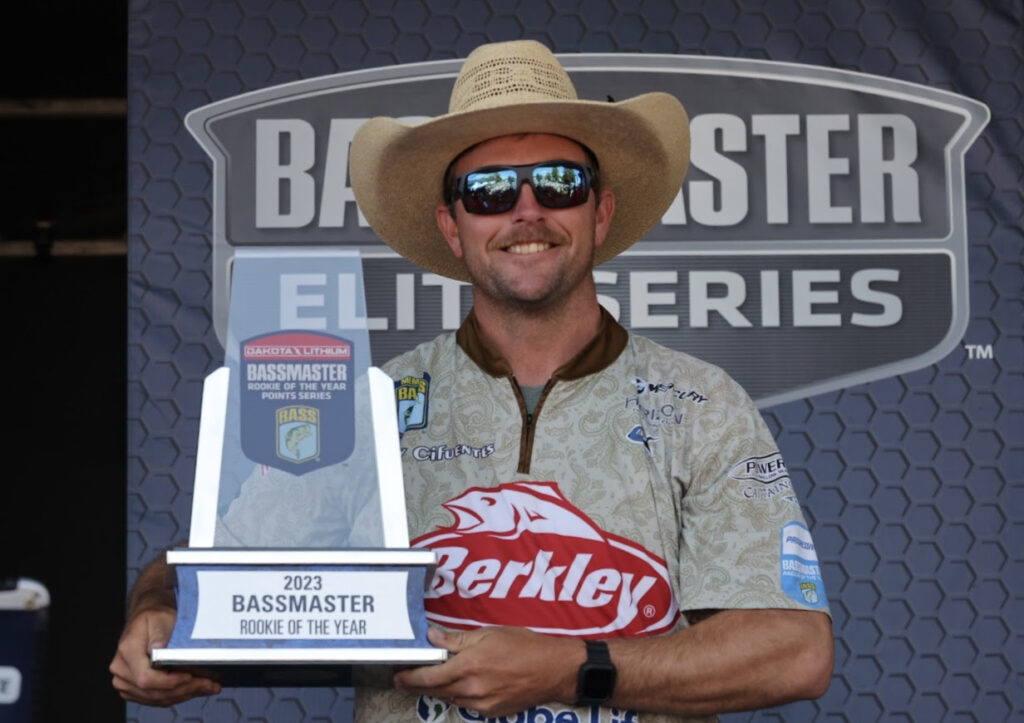 "I just tried to put everything in the past," Cifuentes said. "If there was one place I felt like I didn't have a lot of confidence, it was those two tournaments. I've never done well at Murray for some reason, and I had never been to Santee Cooper. You have to forget about it and move on to the next one. I just kind of rolled with it and tried to bounce back and stay positive."
Cifuentes opened the Northern swing with an impressive victory at Lake St. Clair by fishing a largely unpressured area in Canadian waters. On the final day, Cifuentes watched as a 5-pound smallmouth he hooked jumped in his boat unassisted and knew at that moment the stars had aligned.
"I've never had a fish jump in the boat like that. That moment right there was pretty special," he said.
Even still, the Arkansas pro had to sweat out the final two events, as Fujita won at Lake Champlain while Cifuentes barely missed the Championship Sunday cut in 11th. Then at the St. Lawrence, Fujita again made the final day, but Cifuentes' 17th-place finish was enough to lock down the trophy.
"There was so much pressure," Cifuentes said. "I was thinking about it. This is a really good thing to go through because it would be similar to trying to win AOY. This last tournament, I was proud of myself for going out there and doing the job and did well enough to pull it out."
As he waits for the 2024 Elite Series schedule to be released, Cifuentes will turn his attention to his very first Classic, which will be held only four hours from his house on Grand Lake. He has several tournaments under his belt on the historic fishery and will have plenty of time to pre-practice before the lake goes off-limits.
2023 Bassmaster Elite Series Platinum Sponsor: Toyota
2023 Bassmaster Elite Series Premier Sponsors: Bass Pro Shops, Dakota Lithium, Humminbird, Mercury, Minn Kota, Nitro Boats, Power-Pole, Progressive Insurance, Ranger Boats, Rapala, Skeeter Boats, Yamaha
2023 Bassmaster Elite Series Supporting Sponsors: AFTCO, Daiwa, Garmin, Lew's, Marathon, Triton Boats, VMC
2023 Bassmaster Conservation Partners: AFTCO, Yamaha Rightwaters
Connect with #Bassmaster on Facebook, Instagram, Twitter and TikTok.

About B.A.S.S.
B.A.S.S., which encompasses the Bassmaster tournament leagues, events and media platforms, is the worldwide authority on bass fishing and keeper of the culture of the sport, providing cutting edge content on bass fishing whenever, wherever and however bass fishing fans want to use it. Headquartered in Birmingham, Ala., the 500,000-member organization's fully integrated media platforms include the industry's leading magazines (Bassmaster and B.A.S.S. Times), website (Bassmaster.com), TV show, radio show, social media programs and events. For more than 50 years, B.A.S.S. has been dedicated to access, conservation and youth fishing.
The Bassmaster Tournament Trail includes the most prestigious events at each level of competition, including the Bassmaster Elite Series, St. Croix Bassmaster Opens Series, TNT Fireworks B.A.S.S. Nation Series, Strike King Bassmaster College Series presented by Bass Pro Shops, Strike King Bassmaster High School Series presented by Academy Sports + Outdoors, Bass Pro Shops Bassmaster Team Championship, Yamaha Rightwaters Bassmaster Kayak Series powered by TourneyX, Yamaha Bassmaster Redfish Cup Championship presented by Skeeter and the ultimate celebration of competitive fishing, the Academy Sports + Outdoors Bassmaster Classic presented by Toyota.