April 14, 2023
COLUMBIA, S.C. — A Top 10 lake in the country.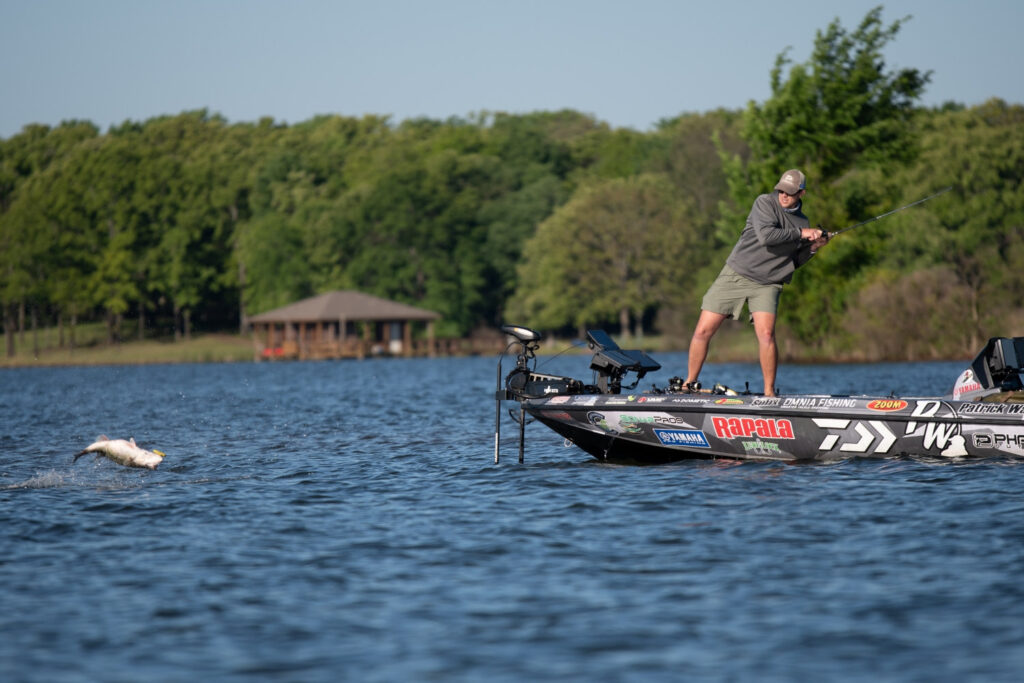 That is how Patrick Walters views Lake Murray in his home state of South Carolina.
With spring in full swing, Walters believes the Marathon Bassmaster Elite at Lake Murray will showcase just how good the central South Carolina fishery can be.
Competition days are scheduled for April 20-23, with takeoffs from Dreher Island State Park each day at 7 a.m. ET and weigh-ins back at the park each day at 3 p.m. A full field of 104 anglers will compete the first two days, with the Top 50 anglers advancing to Semifinal Saturday. The Top 10 remaining pros will compete for the blue trophy and a $100,000 first-place prize on Championship Sunday. Full coverage will be available on Bassmaster.com.
It's been nearly 12 years since the Bassmaster Elite Series visited Columbia, S.C. In that event, Casey Ashley caught 61 pounds, 3 ounces to take home the victory. Since then, Murray has grown into an incredibly healthy bass fishery, yet it has flown largely under the radar in terms of national acclaim.
That will likely change by the end of this month.
"It has been fishing good for two or three years now," Walters said. "In the BFL there this year, 20 pounds barely got you paid. It has been fishing really well. You aren't going to bust 35 pounds, but there is an abundant amount of 25- to 29-pound bags. It won't be quite like that when we are there, but it has a lot of 3- to 5-pounders in it."
Walters said he expects the bass to be in multiple stages. They have been spawning for the past couple of weeks, but the Summerville, S.C., native hopes a brief cold snap last weekend will have pushed some of the remaining spawners back a little.
"I think it will set up really well with the little bit of cold weather," Walters said. "A lot of fish were starting to spawn and the cold front will hopefully elongate it more. There will still be some fish spawning, but there are a good bit of fish already done. The postspawn bite is going to be good. It is going to be a good tournament."
With the bass being in the spawn and postspawn phase, the weights may not be as heavy as they would be in a full-blown prespawn event. But 6-, 7- and even 8-pounders won't be an uncommon sight. With the water level near full pool, it should remain stable throughout the event.
The competitors will be able to spread out and catch bass in a variety of ways. Walters believes the entire lake will play, from the east side all the way west to the Saluda and Little Saluda rivers.
"It's not like one creek turns on," Walters said. "The whole lake will play. Someone is going to catch them upriver. One or two people will [make the] Top 10 up there. Downlake will play. Midlake will play. It will eat a 100-boat field. The cool thing about this lake is not everyone has to be doing the same thing to make the Top 10."
The entire fishery features plenty of docks as well as rocky banks and wood. It also has a little bit of vegetation that includes gator and willow grass, among others. Up the rivers and on the west side of the lake, shad are the prominent baitfish.
"There are big creeks and pockets up there," Walters said. "You'll be fishing the shad spawn and shad eaters in general. It is typically dirtier water. There are a lot of tournaments won up that way."
As you move downlake, blueback herring start to show up and, depending on how the weather trends between now and tournament time, those herring may start their spawning rituals — and that could be the X factor of the event.
"Midlake and down is where the herring deal starts going down. It is more open, deeper water and deeper pockets. It has more of a Hartwell feel to it," Walters said. "I think they will be starting to kick off their spawn. I think there were some up there already."
While many of the herring lakes on the Bassmaster tournament trails feature spotted bass, largemouth dominate Murray, and Walters says they go after herring exactly like spotted bass do. If the herring spawn starts, topwater baits may come heavily into play.
"It has 97% largemouth in it," Walters said. "They act the same way (as spotted bass), you just catch bigger fish. If they start spawning, they will spawn on shallow points and in the dirt. It's like a normal shad spawn except they won't spawn on grass like the shad do."
Walters anticipated big bags will be caught, but consistency will be the key to taking home a win. If an angler can average 18 to 19 pounds a day, he believes that will put them in contention.
Louisiana pro Tyler Rivet leads the Progressive Insurance Bassmaster Angler of the Year standings after two events with 206 points. Australia's Carl Jocumsen is second with 193 points, followed by Arkansas pro Joey Cifuentes III with 190, South Carolina's Brandon Cobb with 187 and North Carolina's Brandon Card with 184.
Cifuentes leads the Bassmaster Rookie of the Year race with 190 points, followed by Alabama pro Will Davis Jr. with 170 and Canada's Cooper Gallant with 148.
New for 2023, fans can enjoy predictions, conditions and live hits from the lake as part of the LIVE Preview show streaming on Bassmaster.com Wednesday, April 19 at 9 a.m. ET. Bassmaster LIVE kicks off tournament coverage Thursday and Friday mornings at 8 a.m. on Bassmaster.com, Tubi and the FOX Sports platforms while FS1 will broadcast live with the tournament leaders on Saturday and Sunday.
The Capital City/Lake Murray Country Regional Tourism Board is hosting the tournament.
2023 Bassmaster Elite Series Platinum Sponsor: Toyota
2023 Bassmaster Elite Series Premier Sponsors: Bass Pro Shops, Dakota Lithium, Humminbird, Mercury, Minn Kota, Nitro Boats, Power-Pole, Progressive Insurance, Ranger Boats, Rapala, Skeeter Boats, Yamaha
2023 Bassmaster Elite Series Supporting Sponsors: AFTCO, Daiwa, Garmin, Lew's, Marathon, Triton Boats, VMC
2023 Bassmaster Conservation Partners: AFTCO, Yamaha Rightwaters
Connect with #Bassmaster on Facebook, Instagram, Twitter and TikTok.

About B.A.S.S.
B.A.S.S., which encompasses the Bassmaster tournament leagues, events and media platforms, is the worldwide authority on bass fishing and keeper of the culture of the sport, providing cutting edge content on bass fishing whenever, wherever and however bass fishing fans want to use it. Headquartered in Birmingham, Ala., the 515,000-member organization's fully integrated media platforms include the industry's leading magazines (Bassmaster and B.A.S.S. Times), website (Bassmaster.com), TV show, radio show, social media programs and events. For more than 50 years, B.A.S.S. has been dedicated to access, conservation and youth fishing.
The Bassmaster Tournament Trail includes the most prestigious events at each level of competition, including the Bassmaster Elite Series, St. Croix Bassmaster Opens Series, TNT Fireworks B.A.S.S. Nation Series, Strike King Bassmaster College Series presented by Bass Pro Shops, Strike King Bassmaster High School Series presented by Academy Sports + Outdoors, Bass Pro Shops Bassmaster Team Championship, Yamaha Rightwaters Bassmaster Kayak Series powered by TourneyX, Yamaha Bassmaster Redfish Cup Championship presented by Skeeter and the ultimate celebration of competitive fishing, the Academy Sports + Outdoors Bassmaster Classic presented by Toyota.