June 26, 2023
BIRMINGHAM, Ala. — Things really are bigger in Texas and that includes the bass coming out of O.H. Ivie Lake, which claims the coveted spot atop the 2023 Bassmaster Magazine 100 Best Bass Lakes standings for the first time in history. This reservoir has stolen the spotlight over the last three years, producing an eye-popping 15 Legacy Class ShareLunker bass — a designation for fish weighing more than 13 pounds — between January and March.
Like the waters anglers love, the rankings of America's best bass fisheries can surge or ebb, and this year's 100 Best Bass Lakes list is a true reflection of those fluctuations.
"We are always a little surprised when going through the data how many fisheries make the rankings and then fall off, as well as by those lakes that just always make the list," explained Bassmaster Magazine Editor-in-Chief James Hall. "Creating the rankings takes more than two months as we dig through current tournament data as well as state fishery information on stocking efforts, catch rates and angler access.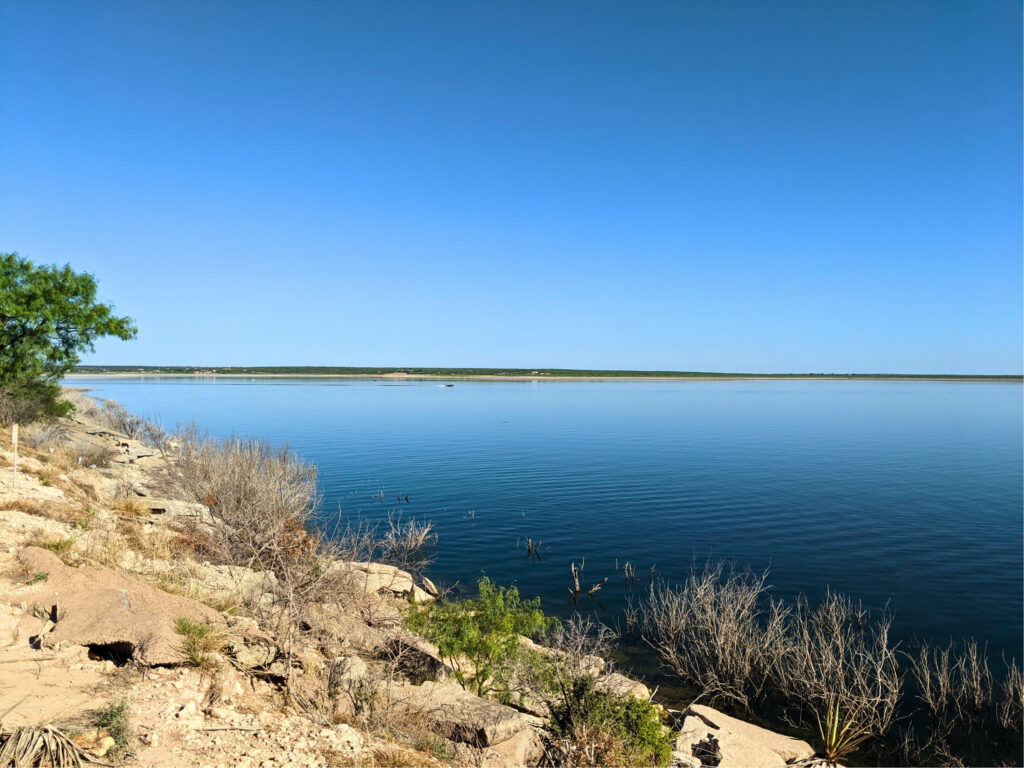 "While the fisheries may change, our goal is to point anglers toward the most productive waters so that their time is spent with rod bent. These rankings provide a bucket list of destinations for anglers."
As for bragging rights on which state has the most fisheries in the Top 100 rankings, that title goes to Texas with a whopping 10 lakes. Right behind the Lone Star State are California and Florida, each with nine lakes on the list, followed by New York and Michigan (six).
Spectacular scenery and feisty smallmouth meet on the 50-mile stretch of the St. Lawrence River known as the 1000 Islands, which dropped one spot to No. 2 in this year's rankings. Anglers eager to do battle with giant smallmouth can head north to the 1000 Islands region of the St. Lawrence River. History was made on the clear waters of this seaway straddling the U.S.-Canadian border during the 2022 Bassmaster Elite out of Clayton, N.Y. After four days, two anglers — Jay Przekurat and Cory Johnston — topped the 100-pound mark with solely smallmouth, a first-ever feat for the Elite Series.
While long-considered a West Coast powerhouse, No. 3 Clear Lake fell out of the top spot during the past two years but is enjoying a resurgence thanks to one of the wettest springs in history. After a multiyear drought, there is now plenty of flooded vegetation providing ideal habitat, with an abundance of baitfish keeping hungry bass well fed. Combine the opportunity to catch the limit of a lifetime with a pristine setting in California's wine country, and you have the definition of a bucket-list fishing destination.
The rankings identify the top lakes in the nation based on head-to-head comparisons, as well as the Top 25 lakes in four geographical regions — Central, Western, Southeastern and Northeastern.
"We divide the nation into four regions and rank the lakes in each region to give anglers perspective on the fisheries they can most likely reach," Hall explained.
Full rankings can be found in the July/August issue of Bassmaster Magazine and on Bassmaster.com.
Bassmaster Magazine's Top 10 BestBassLakes of 2023
O.H. Ivie Lake, Texas
St. Lawrence River (1000 Islands), New York
Clear Lake, California
Lake Murray, South Carolina
Toledo Bend Reservoir, Louisiana/Texas
Fellsmere Reservoir/Stick Marsh/Kenansville Lake, Florida
Lake St. Clair, Michigan
Orange Lake, Florida
Lake Erie/Upper Niagara River, New York
Lake Okeechobee, Florida
Best Bass Lakes – Central Division
O.H. Ivie Lake, Texas
Toledo Bend Reservoir, Louisiana/Texas
Lake Fork, Texas
Possum Kingdom Lake, Texas
Caney Creek Reservoir, Louisiana
Best BassLakes – Western Division
Clear Lake, California
Lake Berryessa, California
Diamond Valley Lake, California
Sacramento-San Joaquin Delta, California
Lake Coeur d'Alene, Idaho
Best BassLakes – Northeastern Division
St. Lawrence River (1000 Islands), New York
Lake St. Clair, Michigan
Lake Erie/Upper Niagara River, New York
Burt/Mullett lakes, Michigan
Lake Champlain, New York/Vermont
Best BassLakes – Southeastern Division
Lake Murray, South Carolina
Fellsmere Reservoir/Stick Marsh/Kenansville Lake, Florida
Orange Lake, Florida
Lake Okeechobee, Florida
Lake Guntersville, Alabama
Connect with #Bassmaster on Facebook, Instagram, Twitter and TikTok.
About B.A.S.S.
B.A.S.S., which encompasses the Bassmaster tournament leagues, events and media platforms, is the worldwide authority on bass fishing and keeper of the culture of the sport, providing cutting edge content on bass fishing whenever, wherever and however bass fishing fans want to use it. Headquartered in Birmingham, Ala., the 500,000-member organization's fully integrated media platforms include the industry's leading magazines (Bassmaster and B.A.S.S. Times), website (Bassmaster.com), TV show, radio show, social media programs and events. For more than 50 years, B.A.S.S. has been dedicated to access, conservation and youth fishing.
The Bassmaster Tournament Trail includes the most prestigious events at each level of competition, including the Bassmaster Elite Series, St. Croix Bassmaster Opens Series, TNT Fireworks B.A.S.S. Nation Series, Strike King Bassmaster College Series presented by Bass Pro Shops, Strike King Bassmaster High School Series presented by Academy Sports + Outdoors, Bass Pro Shops Bassmaster Team Championship, Yamaha Rightwaters Bassmaster Kayak Series powered by TourneyX, Yamaha Bassmaster Redfish Cup Championship presented by Skeeter and the ultimate celebration of competitive fishing, the Academy Sports + Outdoors Bassmaster Classic presented by Toyota.