May 11, 2023
SHELBY COUNTY, Ala. — Benefitting from a quick start, Brandon Palaniuk claimed the Day 1 lead at the Whataburger Bassmaster Elite at Lay Lake with a 19-pound, 7-ounce limit of largemouth.
Palaniuk has no idea if he can come close to repeating that performance. But for now, the Rathdrum, Idaho, native holds an 11-ounce lead over South Carolina's Bryan New and a 2-pound lead over North Carolina's Matt Arey.
"I knew today was super important with what I had and what I found," he said. "Literally, I was hoping to catch enough today to carry me through a good event. I have no idea what is going to happen tomorrow. I have a brushpile I think I can catch 6 pounds of spotted bass out of. That might be my starting spot.
"I have spent four days on this place and still don't feel like I have a clue."
The two-time Progressive Insurance Bassmaster Angler of the Year also claimed the award for Phoenix Boats Big Bass of the Day with a 5-14 lunker largemouth he caught sight fishing. Palaniuk said that bass weighed at least a pound more when he noticed it in practice on Wednesday.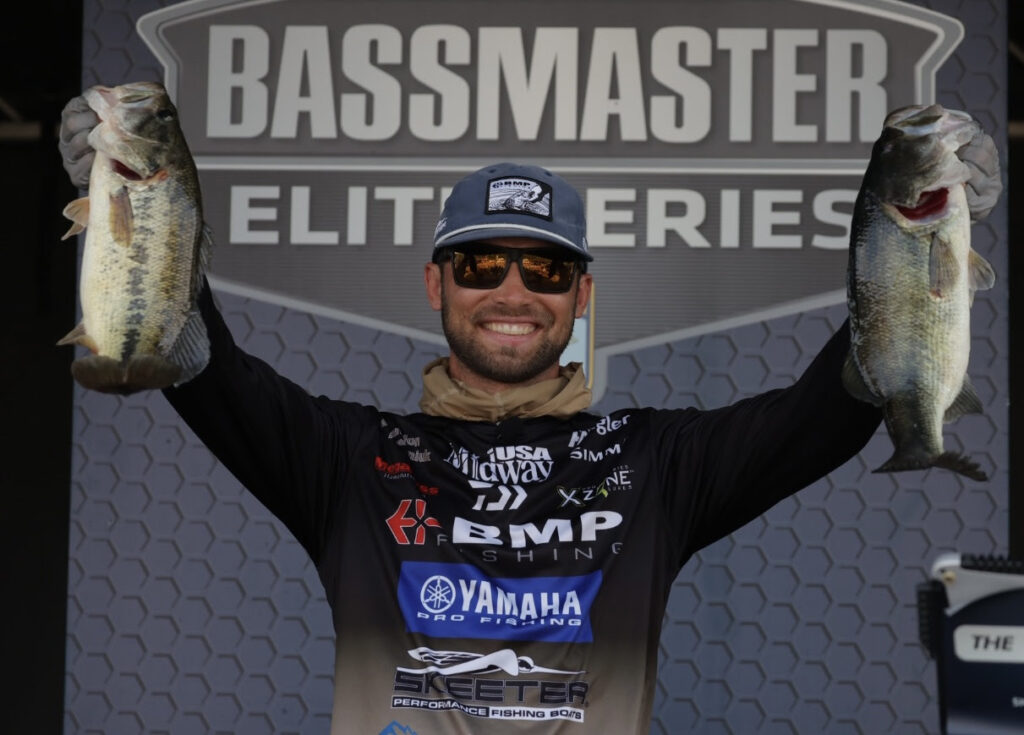 "She dumped her eggs from yesterday to today. Yesterday she was super wide," he said.
When he went back this morning, Palaniuk noticed it 40 feet away from the bed.
"It bit on the second cast. I pulled up and could barely see the bed, and I thought I saw a fish swim off. I couldn't tell if it came back so I pitched up there and didn't see anything move," Palaniuk explained. "I reeled it back in and I looked 90 degrees to my right, and 40 feet from the bed, I just see these two bass swimming. It was that pair, the little male and that giant female, and they were heading back to the bed."
Palaniuk pitched his drop shot, rigged with an X Zone Lures Deception Worm, back in and held his bait steady until he saw the female reach the bed. With one shake, the bass ate and swam off.
That was part of a limit that the six-time B.A.S.S. winner achieved by 10 a.m. Along with the Deception Worm in green pumpkin/blue, he caught bass on a frog and an Adrenaline Craw from X Zone.
Following a weather system that moved through parts of the state on Wednesday morning, cloud cover lingered over Lay Lake all morning and into the afternoon hours. That made for tough fishing conditions for much of the field, with several anglers commenting on Bassmaster LIVE that it was, by far, their toughest morning this week.
The water also dropped throughout practice. But on Thursday, it rose a couple of inches and Palaniuk remarked on LIVE that may have caused some bass to move into the area. Even still, he has seen very few bass on bed like the one he caught on Day 1.
He believes the bass are on the tail end of their spawning cycle.
"I don't know if there are more coming. I highly doubt it," Palaniuk said. "I don't even have a 3-pounder I can run to tomorrow and be like, 'I saved that one.' Maybe a 2-pounder."
Lay Lake was where New officially clinched his Elite Series berth back in 2020 with a 22nd-place showing at the St. Croix Bassmaster Eastern Open. This week, he finds himself in contention again in second place with 18-12.
His biggest bass Thursday weighed 5 pounds.
"I don't know how tomorrow is going to go, but it was a really good day today," New said. "A good start. I kind of jive with Lay Lake. I kind of went fishing. I didn't expect a ton. Practice was garbage. I had a few hints and it went well."
Running a couple of different areas in the morning, New achieved a limit with a kicker bass in the first two hours using a couple of different baits. In the afternoon, the Elite Series champion made two key upgrades, a 3-6 and a 4-1 that were logged on BassTrakk just before 2 p.m.
"I think I found something that's obviously pretty special," New said about his afternoon pattern.
Arey rotated through several baits to catch his limit of 17-6. He caught three of the biggest bass he had seen all week, including two largemouth, one weighing 4-11 and one almost 4 pounds. He also caught a 3-pound spotted bass.
"I caught one off a bed, I caught one flipping, I caught one swimming a jig and I caught two casting a worm. I am really dialed in as you can tell," Arey said, laughing. "I was fortunate today to get two really big largemouth bites. I've got a little deal where I can get a lot of bites, but I only think it is good for 6- to 8-pound limits. I've gotta mix in some big-bait power fishing to get a big largemouth."
With the time of year, Arey said he isn't surprised the bass are as spread out as they are. He has seen a little bit of everything this week and he says there are bites right now that will mislead anglers. That's why he's been switching techniques and areas often.
"The water fluctuation this week is what helps or hurts it," Arey said. "This system is sensitive to rising and falling water. The water looks like it has come up some now. It had been falling throughout practice, which made the shallow largemouth bite fickle. Hopefully, they don't drop the bottom out of it and it continues to improve."
South Carolina pro Brandon Cobb leads the Progressive Insurance Bassmaster Angler of the Year standings with 469 points. He is followed by Florida's John Cox in second with 414 points, Australia's Carl Jocumsen in third with 413, Louisiana's Tyler Rivet in fourth with 405 and North Carolina's Shane LeHew in fifth with 394.
Sylacauga, Ala., pro Will Davis Jr. landed in seventh place Thursday with 15-14 and now leads the Dakota Lithium Bassmaster Rookie of the Year standings with 377 points. He is followed by California pro Bryant Smith in second with 376 points and Alabama's David Gaston in third with 373.
The full field will launch from Beeswax Creek Park beginning at 6:30 a.m. CT on Friday morning and return for weigh-in at 3 p.m. The field will be cut to the Top 50 anglers following the Day 2 weigh-in before the Top 10 compete on Championship Sunday for the $100,000 first-place prize.
Bassmaster LIVE coverage starts at 7 a.m. and streams through 2 p.m. on Bassmaster.com, Tubi and the FOX Sports digital platforms.

Discover Shelby is hosting the tournament.
2023 Bassmaster Elite Series Platinum Sponsor: Toyota
2023 Bassmaster Elite Series Premier Sponsors: Bass Pro Shops, Dakota Lithium, Humminbird, Mercury, Minn Kota, Nitro Boats, Power-Pole, Progressive Insurance, Ranger Boats, Rapala, Skeeter Boats, Yamaha
2023 Bassmaster Elite Series Supporting Sponsors: AFTCO, Daiwa, Garmin, Lew's, Marathon, Triton Boats, VMC
2023 Bassmaster Conservation Partners: AFTCO, Yamaha Rightwaters
Connect with #Bassmaster on Facebook, Instagram, Twitter and TikTok.

About B.A.S.S.
B.A.S.S., which encompasses the Bassmaster tournament leagues, events and media platforms, is the worldwide authority on bass fishing and keeper of the culture of the sport, providing cutting edge content on bass fishing whenever, wherever and however bass fishing fans want to use it. Headquartered in Birmingham, Ala., the 515,000-member organization's fully integrated media platforms include the industry's leading magazines (Bassmaster and B.A.S.S. Times), website (Bassmaster.com), TV show, radio show, social media programs and events. For more than 50 years, B.A.S.S. has been dedicated to access, conservation and youth fishing.
The Bassmaster Tournament Trail includes the most prestigious events at each level of competition, including the Bassmaster Elite Series, St. Croix Bassmaster Opens Series, TNT Fireworks B.A.S.S. Nation Series, Strike King Bassmaster College Series presented by Bass Pro Shops, Strike King Bassmaster High School Series presented by Academy Sports + Outdoors, Bass Pro Shops Bassmaster Team Championship, Yamaha Rightwaters Bassmaster Kayak Series powered by TourneyX, Yamaha Bassmaster Redfish Cup Championship presented by Skeeter and the ultimate celebration of competitive fishing, the Academy Sports + Outdoors Bassmaster Classic presented by Toyota.