April 6, 2023
MANY, La. — Shaine Campbell finished second at the St. Croix Bassmaster Open at Alabama's Lake Eufaula back in March, which was enough to put him atop the Elite Qualifiers Division standings.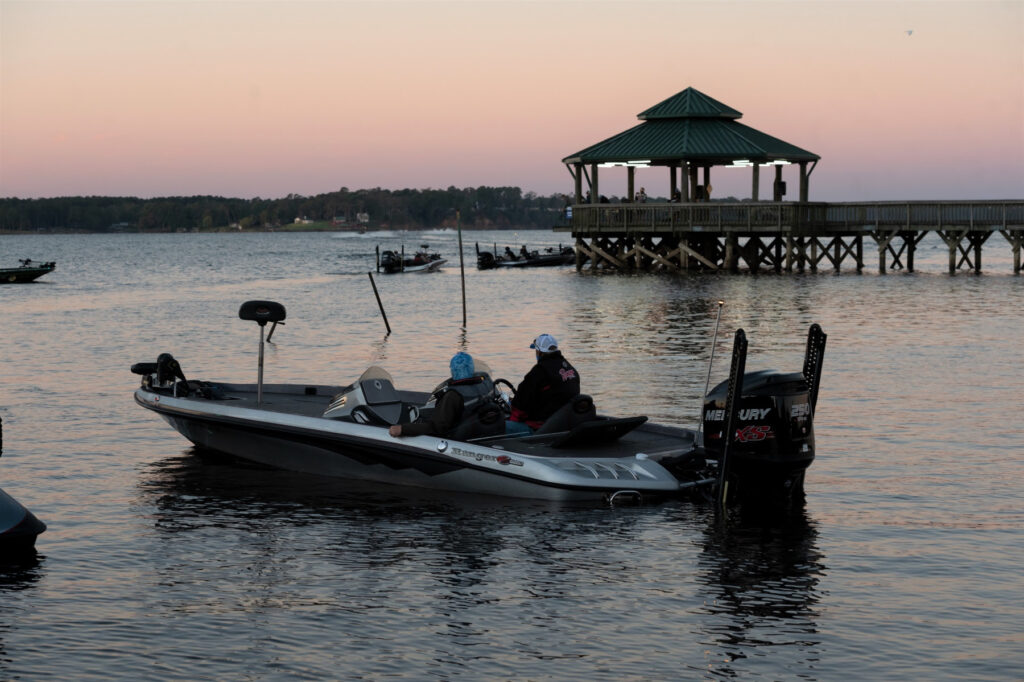 Now, as if Campbell himself designed the schedule, the Opens will swing right through his wheelhouse, stopping at Toledo Bend Reservoir on April 13-15. Anglers will take off every day at 6:45 a.m. CT from Cypress Bend Park with weigh-ins scheduled back at the park at 2:45 p.m.
It figures to be a wide-open tournament, as many on the 185,000-acre impoundment of the Sabine River tend to be. That's partly because of the diversity of the fishery, but mostly because of the giant bucket-mouthed bass, some with double-digit weights, that have been hooked at the "The Bend" throughout the year.
Few know this as well as Campbell, who lives in Brookeland, Texas, just a 30-minute drive from the nearest Toledo Bend ramp.
"You can fish anywhere from a foot of water to 30 feet of water at Toledo Bend," Campbell said. "You can catch bed fish, you can throw a Carolina rig out deep, you can try a crankbait. Really, you can try a little bit of everything, and I think most people will. It'll be interesting to see what patterns guys get on."
Campbell, 36, expects bass to be post-spawn for this derby and said he'll target transitioning fish with hopes of landing a spot in the final round of the three-day tournament. Still, he said April can be "stingy sometimes when the bass get in a little post-spawn funk."
Campbell suspects the winner will need a three-day total between 60 and 62 pounds. He said the deciding factor almost certainly will be the angler who catches a few lunkers like the ones that made it the top-ranked fishery in the U.S. by Bassmaster Magazine in 2015 and 2016.
"At any time, someone can catch a 9- or 10-pounder that changes everything," he said.
Campbell said he likes the magnitude of the place, but noted the expansiveness and myriad choices to make can intimidate anglers who are accustomed to smaller bodies of water.
Still, he doesn't expect the 171 EQ anglers (225 pro anglers total) at Toledo Bend to blink.
"Not one bit," he said, chuckling. "Somebody had to take the EQ lead after the first Open and I'm really glad it was me. But there are some horses right behind me. I'd love to hold onto the lead in the standings until the end, but it's a long year."
Nine Opens tournaments are on the 2023 schedule and the top nine anglers in the Bassmaster Opens EQ points race at the end of the season will qualify for the prestigious Bassmaster Elite Series in 2024.
No matter how he finishes at Toledo Bend, Campbell already has one thing going for him before the first bass is caught.
"There's a lot to be said for camaraderie, and I may stay over at (Toledo Bend) on tournament days," he said. "I'm comfortable there. But you can guarantee that on practice days, I'm going home to sleep in my own bed."
Follow all of the action on Bassmaster.com.
The St. Croix Bassmaster Open at Toledo Bend is being hosted by the Sabine Parish Tourist & Recreation Commission and the Louisiana Office of Tourism.
2023 Bassmaster Opens Series Title Sponsor: St. Croix
2023 Bassmaster Opens Series Platinum Sponsor: Toyota
2023 Bassmaster Opens Series Premier Sponsors: Bass Pro Shops, Dakota Lithium, Humminbird, Mercury, Minn Kota, Nitro Boats, Power-Pole, Progressive Insurance, Ranger Boats, Rapala, Skeeter Boats, Yamaha
2023 Bassmaster Opens Series Supporting Sponsors: AFTCO, Daiwa, Garmin, Lew's, Marathon, Triton Boats, VMC
About B.A.S.S.
B.A.S.S., which encompasses the Bassmaster tournament leagues, events and media platforms, is the worldwide authority on bass fishing and keeper of the culture of the sport, providing cutting edge content on bass fishing whenever, wherever and however bass fishing fans want to use it. Headquartered in Birmingham, Ala., the 515,000-member organization's fully integrated media platforms include the industry's leading magazines (Bassmaster and B.A.S.S. Times), website (Bassmaster.com), TV show, radio show, social media programs and events. For more than 50 years, B.A.S.S. has been dedicated to access, conservation and youth fishing.
The Bassmaster Tournament Trail includes the most prestigious events at each level of competition, including the Bassmaster Elite Series, St. Croix Bassmaster Opens Series, TNT Fireworks B.A.S.S. Nation Series, Strike King Bassmaster College Series presented by Bass Pro Shops, Strike King Bassmaster High School Series presented by Academy Sports + Outdoors, Bass Pro Shops Bassmaster Team Championship, Yamaha Rightwaters Bassmaster Kayak Series powered by TourneyX, Yamaha Bassmaster Redfish Cup Championship presented by Skeeter and the ultimate celebration of competitive fishing, the Academy Sports + Outdoors Bassmaster Classic presented by Toyota.