South Carolina Pro Patrick takes an almost two-pound lead into Showdown Saturday at Saginaw Bay.
With a day two that featured both largemouth and smallmouth, leader Patrick Walters added 22 pounds to his day one weight of 20 pounds, 4 ounces. With a two-day total of 42 pounds, 4 ounces, the South Carolina pro takes an almost 2-pound lead into the final day.
While waiting for the winds to calm, Walters targeted largemouth for a few hours in the morning and was able to put three bass in the boat to get off to a good start. Once the wind began to die off, he knew it was time to make the move.
"The largemouth were finicky this morning and I said the heck with it, I am going," said Walters. "Once I got out there it took me 45 minutes and I finally caught one."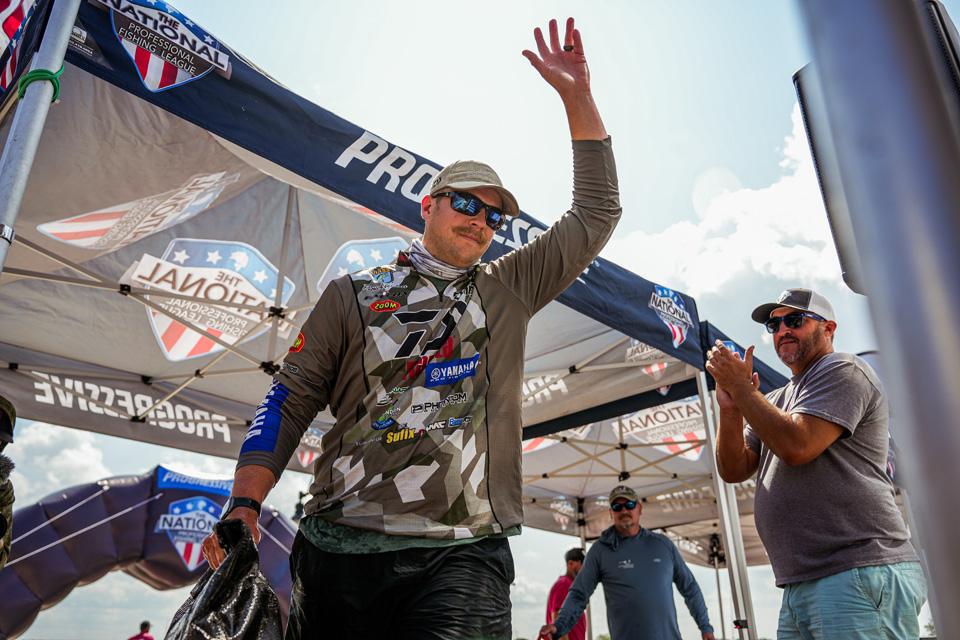 With four bass in the box, he made a slight move and slide over to the juice and that's when it got interesting. As seen on live, Walters went to work and caught his day's weight.
"It was insane, and I was able to catch four good ones and then a 3.5-pounder," added Walters. "Tomorrow, I have some stuff I have not messed with; today I ended up fishing a little of that stuff, and on day one I fished a little as well."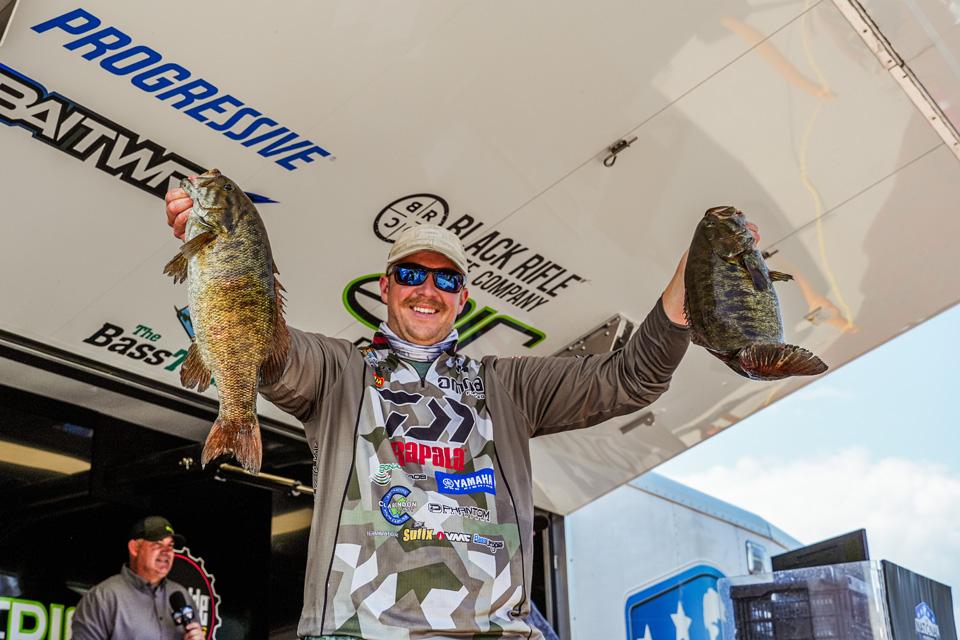 Aside from losing a few fish in the grass first thing, Walters has fished a fairly clean event. His 22-pound bag today, the biggest bag of the event thus far, included "clones" and "no giants."
"I have a lot of time tomorrow and it's going to be the best weather of the week," he concluded. "I am going to settle in and just catch everything I can and see what happens."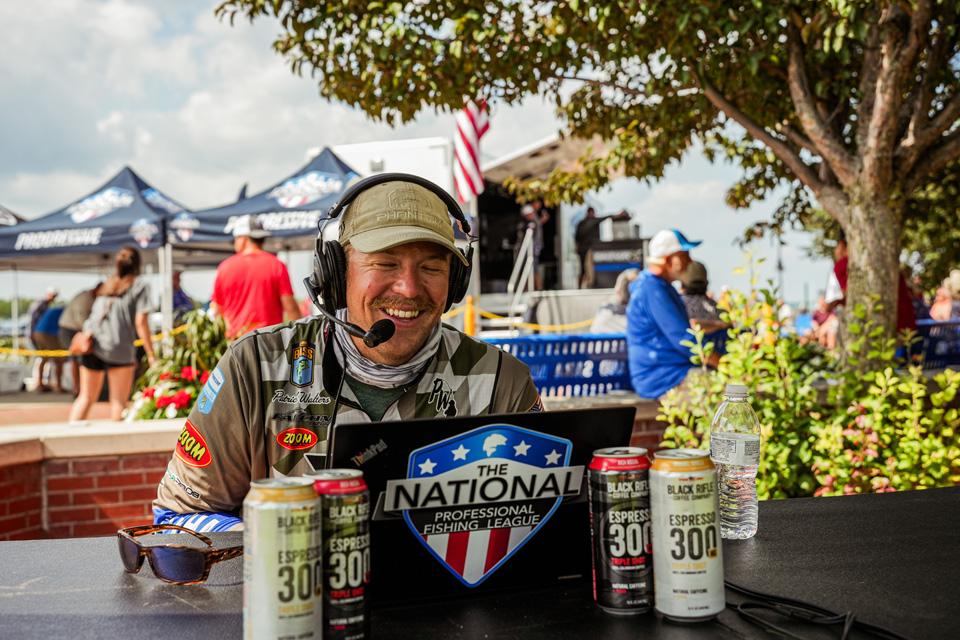 Trent Palmer
Surviving the wind on day one with 18 pounds, 8 ounces, Trent Palmer added 21 pounds, 10 ounces on day two for a total weight of 40 pounds, 2 ounces, putting him in the second-place spot just under two pounds behind Walters.
As planned, he began his day fishing for largemouth to build a limit and wait until the winds died down. At 10:30 AM, he made the move to the smallmouth and started catching fish immediately.
"I fished a new area today and I have two more I saved for tomorrow that I believe are just as productive," said Palmer. "With no wind, we will have the ability to move around more on the final day and put together a good bag."
Although his morning began by losing a 4-pound largemouth on a swim jig, he fished another clean day. If the fish make it to the boat, Showdown Saturday could be magical and make for some awesome Live Coverage.
"When the wind blows, the fish scatter," added Palmer. "When it's calm and high sun, they group up and the big ones really bite. I think if I can run my three areas, I have the opportunity for a really good day. If a few things go my way, it could be a magical day."
Stu Martel
Increasing his weight from 18 pounds, 3 ounces on day one to 18 pounds, 14 ounces on day two, Stu Martel sits in the third-place spot with a two-day total weight of 37 pounds, 1 ounce.
Mike Corbishley
With a two-day weight of 34 pounds, 1 ounce, Mike Corbishley caught 18 pounds, 8 ounces on day one, and 15 pounds, 9 ounces on day two to sit in fourth place going into Showdown Saturday. After getting his day going with four largemouth first thing, Corbishley found it challenging to stay in his smallmouth areas.
"I spent four hours of my day driving today and then had a hard time fishing when I got to my little smallmouth spot cause the wind was blowing still," said Corbishley. "Today was a survival day for me so I mixed in some largemouth to get going and I never was able to cull them out."
He described his area as a "current break" deal where a shallow bar touches deep water and causes fish to set up to feed. With winds blowing through, the fish were there but it was difficult to present a bait.
"For the most part, I couldn't even keep my trolling motor in the water," added Corbishley. "It was hard to target individual fish but when I did see one and make a good cast, they would typically bite."
He noted he is fishing "typical smallmouth baits" and fishing them on Cashion spinning rods with 13 Fishing reels.
Hunter Baughman
With 33 pounds, 2 ounces of largemouth bass over two days, Hunter Baughman is the only guy in the top five yet to weigh in a smallmouth. His day one weight of 15 pounds, 12 ounces, and day two weight of 17 pounds, 6 ounces puts him in the fifth-place spot going into the final day.
Baughman has been targeting specific structures with vegetation the first two days and notes that fish management is key to consistently catching quality bass each day.
"I had a decent practice and scrapped my plan this week to fish for smallmouth one day, and stuck with the shallow bite," said Baughman. "I am fishing similar to last year and fishing specific stuff holding bigger quality largemouth."
In 2022, his areas produced almost enough weight to cut a check, but with recent low water for this week, the bigger fish are utilizing his "current-based" areas with deeper water adjacent to shallow cover.
"I have yet to weigh one in over 4 pounds and they are all the same size," he added. "Once I get to bigger than a 3-pound average I leave, and I have been trying to fish each area only one time per day. I think I hit two twice and was able to make a cull."
With one more day to go, Baughman can fish his areas more thoroughly and has another place saved he may fish depending on how the day goes.
Rest of the Best:
Todd Goade 32-13 
Sheldon Collings 32-5 
Barron Adams 32-0 
Louis Fernandez 31-12 
Will Harkins 30-0
Be sure and subscribe to the Louisiana Bass Nation Anglers Newsletter!