June 15, 2023
EUFAULA, Okla. — In preparation for the St. Croix Bassmaster Open at Lake Eufaula, Okla., Tyler Williams spent the previous two weeks fishing Missouri's Lake of the Ozarks hoping to find some clues he could carry south.
Those two weeks have paid off so far as the Belgrade, Maine, pro caught 19 pounds, 3 ounces on Day 1 at Eufaula to take the lead. Colorado's Ty Faber and Tennessee's John Garrett, the points leader in the Opens Elite Qualifiers Division, are tied for second with 18-10.
"I don't like losing. I want to fish as good as I can," Williams said. "I spent two weeks at the Ozarks and won some Wednesday-nighters and did as much as I could to learn. I got to use some of that here. I'm happy I didn't just go home."
Using some of the lessons he learned during his two-week adventure, Williams was able to find a limit within the first hour on what he calls the biggest community hole on the lake. From there, he found similar areas and upgraded throughout the day with multiple 4-pounders.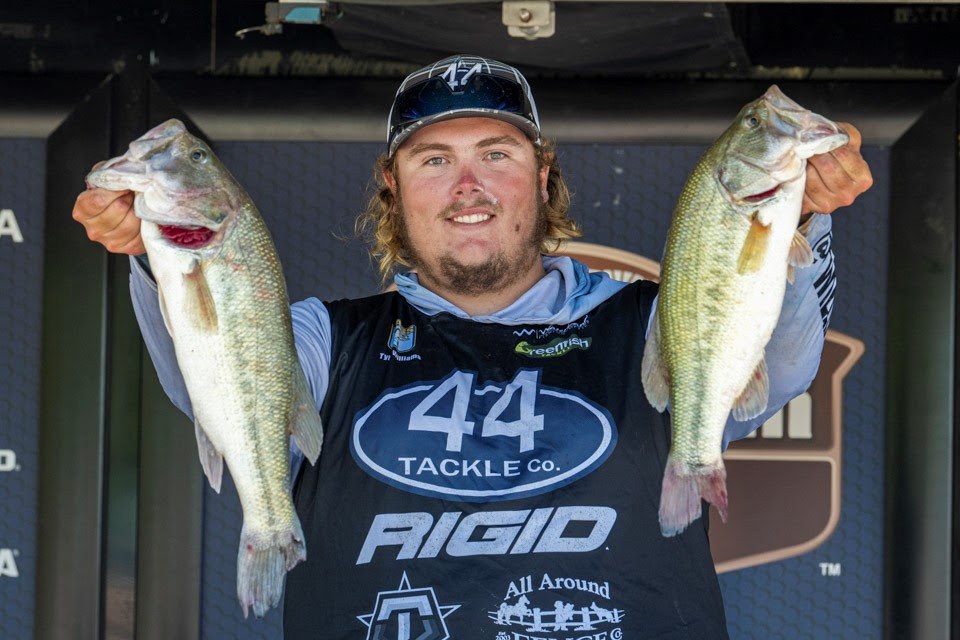 "I know I can catch them throughout the day. It was about two every hour just fishing around," Williams said. "I think the biggest population of fish is there and with your LiveScope, you can learn how the fish are acting and go from there."
Using his Garmin LiveScope, Williams caught bass in 2 feet all the way out to 20 feet in cleaner sections of Lake Eufaula. He added that he has been able to fish in his comfort zone with a rotation of baits he's confident in.
"It was whatever looked good, honestly. I was just going with my LiveScope and looking the whole time," he said. "It didn't show me the fish, but it showed me where to throw. It is a little tricky to scope here with how many white bass there are, but I have gotten the hang of it."
Williams never actually fished what he believed to be his best areas on Day 1 and doesn't know if there is the same quality of bass he caught Thursday around those areas. He does believe, however, that he can catch a limit around those areas.
Faber, meanwhile, was able to generate bites early and filled his limit in just a couple of hours. The bite slowed down around midday, but the Pagosa Springs, Colo., pro said he made a couple of key culls late.
"After practice, I was thinking if everything went right I would have 15 or 16 pounds," he said. "I had a blessed day today and was very lucky."
With much warmer weather moving into the area, Faber has been able to capitalize on a summertime pattern during his first-ever trip to Eufaula. Throughout the day, he estimated he caught between 10 and 12 keepers on one particular presentation.
Faber said he is milking one main area — and while he has seen plenty of competitors, no one stayed long.
"It's not like you catch a whole bunch, but every now and then you catch a good one," he said. "They kind of come and go and I am hunkered down and just fishing. I'm trying to make a bunch of casts and hope one of the bass goes and eats my lure."
Similar to Faber, Garrett maximized one spot to catch his limit. The fish on this spot are very difficult to catch, the Union City, Tenn., native said, but when one does bite it is a quality bass.
He had to fish very slowly and used a variety of soft plastics.
"I pulled up at the right time," Garrett said. "I started close by fishing shallow and went to it at 9 o'clock. The sun was out and it was hot and all of the fish were set up on it. It is the only school of bass I have seen on the entire lake. I fished there for an hour and a half and caught 10, all good fish, and I camped on it until 3."
This specific piece of structure is just above the thermocline on the lake and there are several species set up on the spot, not just bass. He noted that bass on the spot are keying on tiny shad fry. The fry moves in and out of the area, and Garrett has found he can get more bites with a small worm when that bait is not present.
"It is the structure farthest out from the bank in the bay I'm in," he said. "The thermocline is about 15 feet down. The bass want to be as deep as they can get and this spot is half a foot above that."
The slick, sunny conditions on Thursday positioned the bass perfectly, but with rain and storms expected to move through overnight and into the morning hours of Day 2, Garrett isn't sure how the bass will react.
"The potential is there," he said. "It just depends on how they set up and act with the rain and clouds tomorrow."
Ben Milliken of New Caney, Texas, caught a 6-5 largemouth to lead the Phoenix Boats Big Bass of the Tournament standings after Day 1.
Sakae Ushio leads the co-angler standings with a three-bass limit weighing 11-9. He anchored that bag with a 4-6 that is the Phoenix Boats Big Bass of the Tournament for the co-angler division. Christopher Veronee is second with 9-10 and Kevin Turner is third with 9-3.
The full field of anglers will launch from Nichols Point beginning at 6 a.m. CT and return for weigh-in beginning at around 2:30 p.m. The Top 10 pros after the Day 2 weigh-in will compete on the final day, while the co-angler champion will be crowned at the conclusion of weigh-in Friday. Full coverage will be available on Bassmaster.com.
The tournament is being hosted by the Eufaula Area Chamber of Commerce.
Connect with #Bassmaster on Facebook, Instagram, Twitter and TikTok.
2023 Bassmaster Opens Series Title Sponsor: St. Croix
2023 Bassmaster Opens Series Platinum Sponsor: Toyota
2023 Bassmaster Opens Series Premier Sponsors: Bass Pro Shops, Dakota Lithium, Humminbird, Mercury, Minn Kota, Nitro Boats, Power-Pole, Progressive Insurance, Ranger Boats, Rapala, Skeeter Boats, Yamaha
2023 Bassmaster Opens Series Supporting Sponsors: AFTCO, Daiwa, Garmin, Lew's, Marathon, Triton Boats, VMC
About B.A.S.S.
B.A.S.S., which encompasses the Bassmaster tournament leagues, events and media platforms, is the worldwide authority on bass fishing and keeper of the culture of the sport, providing cutting edge content on bass fishing whenever, wherever and however bass fishing fans want to use it. Headquartered in Birmingham, Ala., the 515,000-member organization's fully integrated media platforms include the industry's leading magazines (Bassmaster and B.A.S.S. Times), website (Bassmaster.com), TV show, radio show, social media programs and events. For more than 50 years, B.A.S.S. has been dedicated to access, conservation and youth fishing.
The Bassmaster Tournament Trail includes the most prestigious events at each level of competition, including the Bassmaster Elite Series, St. Croix Bassmaster Opens Series, TNT Fireworks B.A.S.S. Nation Series, Strike King Bassmaster College Series presented by Bass Pro Shops, Strike King Bassmaster High School Series presented by Academy Sports + Outdoors, Bass Pro Shops Bassmaster Team Championship, Yamaha Rightwaters Bassmaster Kayak Series powered by TourneyX, Yamaha Bassmaster Redfish Cup Championship presented by Skeeter and the ultimate celebration of competitive fishing, the Academy Sports + Outdoors Bassmaster Classic presented by Toyota.